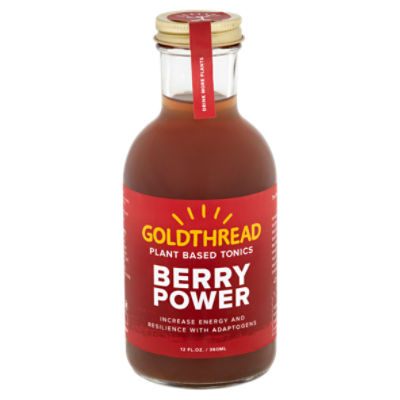 Goldthread Berry Power Plant Based Tonics, 12 fl oz
$3.49
was $4.99
$0.29/fl oz
Sale Information
On Sale!
Sale price valid from 3/17/2023 until 3/23/2023
Description
Goldthread Berry Power Plant Based Tonics, 12 fl oz The Formula Schisandra berry, goji berry, ginger root, spearmint, rose petal, orange peel, tulsi leaf + flower, Korean ginseng, cardamom pods Drink More Plants This strengthening tonic helps you stay balanced in the face of life's challenges. Constant and dynamic change is the law of the universe, so harness its power and build the fortitude essential to meet your destiny. Tonic herbs invoke the deep-rooted energy of the oak and the flexible resilience of bamboo. This elixir turns a stressful day into a snorkeling adventure through the kaleidoscopic reef of your own possibility. William Siff Msc. A.O.M. Founder + Chief Herbalist
Ingredients
Filtered Water; Lemon*; Schisandra Supreme Proprietary Herb Blend (Schisandra*, Goji*, Rose Petal*, Orange Peel*, Tulsi*, Cardamom*, Ginger*, Spearmint*, Ginseng*); Monk Fruit Extract*; Naturally Occurring Erythritol; (*Organic);
Nutrition Facts
servings pr container
Product Number: 00854004006007
Sale Information
On Sale!
Sale price valid from 3/17/2023 until 3/23/2023
Description
Goldthread Berry Power Plant Based Tonics, 12 fl oz The Formula Schisandra berry, goji berry, ginger root, spearmint, rose petal, orange peel, tulsi leaf + flower, Korean ginseng, cardamom pods Drink More Plants This strengthening tonic helps you stay balanced in the face of life's challenges. Constant and dynamic change is the law of the universe, so harness its power and build the fortitude essential to meet your destiny. Tonic herbs invoke the deep-rooted energy of the oak and the flexible resilience of bamboo. This elixir turns a stressful day into a snorkeling adventure through the kaleidoscopic reef of your own possibility. William Siff Msc. A.O.M. Founder + Chief Herbalist
Product Number: 00854004006007
Ingredients
Filtered Water; Lemon*; Schisandra Supreme Proprietary Herb Blend (Schisandra*, Goji*, Rose Petal*, Orange Peel*, Tulsi*, Cardamom*, Ginger*, Spearmint*, Ginseng*); Monk Fruit Extract*; Naturally Occurring Erythritol; (*Organic);
Nutrition Facts
servings pr container
Product Number: 00854004006007