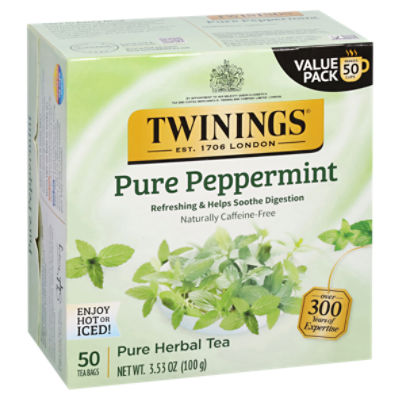 Sale Information
On Sale!
Sales price valid from 1/29/2023 until 2/4/2023
Description
Twinings of London Pure Peppermint Herbal Tea Bags, 50 count Delight in the fresh, uplifting taste of this warm, savoury tea. Master Blender's Notes Notes - Warm, refreshing, minty Colours - Bright, amber, honey-orange Steep Time - 4 minutes (recommended) Herbs have a long history of documented use tracing back to Ancient Egypt, Ancient China and to the beginning of Ayurveda science in India. Herbal tea is not actually tea, because it is not made from the Camellia Sinensis plant. Instead, other common names include infusion and tisane. Herbal teas can be made from any combination of flowers, leaves, seeds, roots, citrus or berry fruits, herbs and spices - which is why the number of unique blends available is virtually limitless. Camomile, Peppermint, Ginger and Hibiscus are some of the most popular ingredients used today. Peppermint is thought to have originated in Northern Africa and the Mediterranean. Our blend is a unique combination of peppermint leaves sourced from Germany, Poland, North America and other countries around the world. The fresh, minty taste of this savoury tea will lift your mind and spirit. Jeremy Sturges-Master Blender
Product Number: 00070177225032
Sale Information
On Sale!
Sales price valid from 1/29/2023 until 2/4/2023
Description
Twinings of London Pure Peppermint Herbal Tea Bags, 50 count Delight in the fresh, uplifting taste of this warm, savoury tea. Master Blender's Notes Notes - Warm, refreshing, minty Colours - Bright, amber, honey-orange Steep Time - 4 minutes (recommended) Herbs have a long history of documented use tracing back to Ancient Egypt, Ancient China and to the beginning of Ayurveda science in India. Herbal tea is not actually tea, because it is not made from the Camellia Sinensis plant. Instead, other common names include infusion and tisane. Herbal teas can be made from any combination of flowers, leaves, seeds, roots, citrus or berry fruits, herbs and spices - which is why the number of unique blends available is virtually limitless. Camomile, Peppermint, Ginger and Hibiscus are some of the most popular ingredients used today. Peppermint is thought to have originated in Northern Africa and the Mediterranean. Our blend is a unique combination of peppermint leaves sourced from Germany, Poland, North America and other countries around the world. The fresh, minty taste of this savoury tea will lift your mind and spirit. Jeremy Sturges-Master Blender
Product Number: 00070177225032
Product Number: 00070177225032