Search results
Muir Glen Organic Petite Diced, Tomatoes, 14.5 Ounce, $2.49
Muir Glen Organic Petite Diced Tomatoes, 14.5 oz Tip Petite diced offers the perfect tomato size for making pico de gallo, wraps, pasta salads, or bruschetta.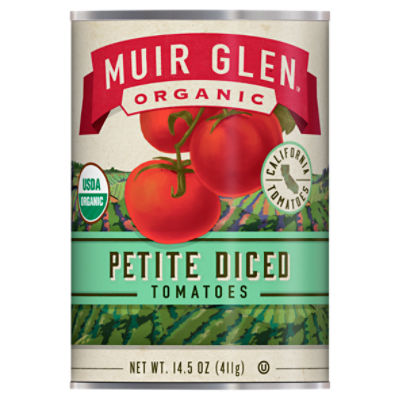 Muir Glen Organic Petite Diced, Tomatoes, 14.5 Ounce
Open product description
Mutti Ciliegini, Cherry Tomatoes, 14 Ounce, $2.99
Mutti Ciliegini Cherry Tomatoes, 14 oz Mutti Cherry Tomatoes (Ciliegini) are grown in the warm and sunny regions of Puglia and Campania. Sun-ripened, they are fragrant, sweet, and succulent. Nothing is added to these delicious tomatoes. Look for that familiar "pop" when you eat one! Our Cherry Tomatoes provide a consistently great taste all year long and are perfect for roasting with fish, skewering with fresh mozzarella, or even in a pasta salad.
Mutti Ciliegini, Cherry Tomatoes, 14 Ounce
Open product description