Search results
Eggland's Best 2ct Ham & Cheese Omelets, $5.99
Cage Free Eggs* *Hens are Free Roaming Inside a Barn The Best Eggs make the Best Omelets Eggland's Best hens are fed a wholesome, all-vegetarian diet, resulting in better tasting and more nutritious eggs. Our superior eggs are folded over cheddar, Monterey Jack, and Parmesan cheese in small batches to make truly exceptional omelets.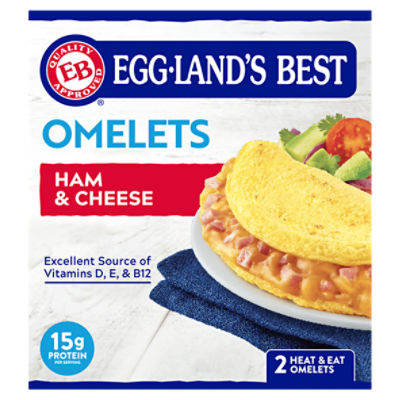 Eggland's Best 2ct Ham & Cheese Omelets
Open Product Description
Jimmy Dean Delights Frittatas with Bacon & Spinach, Frozen Breakfast, 6 Count, $9.99
Jimmy Dean Delights Bacon and Spinach Frittatas is a real breakfast, real fast. This flavorful breakfast is packed with bacon, spinach and cheese in a fluffy egg muffin. These breakfast frittatas have 14 grams of protein per serving. Today, Jimmy Dean brand brings you many ways to add some sunshine to your morning. Today is your day to shine on.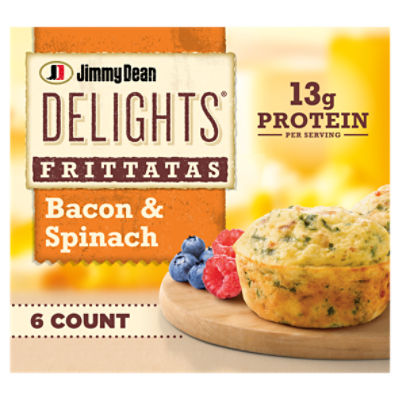 Jimmy Dean Delights Frittatas with Bacon & Spinach, Frozen Breakfast, 6 Count
Open Product Description
Just Crack an Egg Veggie Scramble Breakfast Bowl Kit with Sharp White Cheddar Cheese, Mild Cheddar Cheese, Potatoes, Broccoli, Mushrooms, Onions and Red Peppers, 3 oz. Cup, $3.49
A tasty scramble ready in two minutes? Get outta here! Just Crack an Egg Scramble Breakfast Bowl Kits have everything you want in a morning starter. Ready in less than two minutes, our Just Crack an Egg Veggie Scramble Breakfast Bowl Kit is made with sharp white cheddar cheese, mild cheddar cheese, diced Ore-Ida potatoes, broccoli, mushrooms, onions and red peppers. Simply add a fresh egg, stir the ingredients and microwave for a quick and easy bowl at home or on the go. Try preparing yours with two eggs for a heartier option. Our scrambled egg cups can also be made with egg whites. The veggie scramble breakfast bowl kit is an excellent source of protein to start the day off right. Keep the breakfast bowl kits refrigerated until you're ready to prepare.nn• One 3 oz. cup of Just Crack an Egg Veggie Scramble Breakfast Bowl Kit with Sharp White Cheddar Cheese, Mild Cheddar Cheese, Potatoes, Broccoli, Mushrooms, Onions and Red Peppersn• Just Crack an Egg Veggie Scramble Breakfast Bowl Kit is ready in less than two minutesn• Our Just Crack an Egg Veggie Scramble Breakfast Bowl Kit contains sharp white cheddar cheese, mild cheddar cheese, potatoes, broccoli, mushrooms, onions and red peppersn• Simply add a fresh egg, stir the ingredients and microwave for a quick and easy morning starter at home or on the gon• Try making yours with one egg, two eggs or egg whitesn• Each breakfast bowl kit is an excellent source of proteinn• Keep refrigerated until ready to prepare breakfast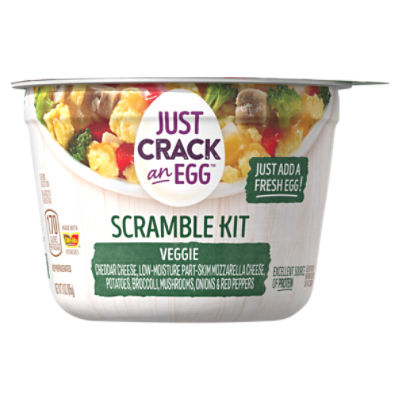 Just Crack an Egg Veggie Scramble Breakfast Bowl Kit with Sharp White Cheddar Cheese, Mild Cheddar Cheese, Potatoes, Broccoli, Mushrooms, Onions and Red Peppers, 3 oz. Cup
Open Product Description