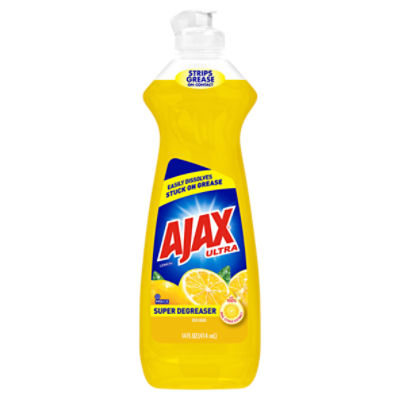 Ajax Ultra Super Degreaser Lemon Dish Liquid, 14 fl oz
Sale Information
On Sale!
Sales price valid from 1/29/2023 until 2/4/2023
Description
Ajax Ultra Super Degreaser Lemon Dish Liquid, 14 fl oz Delight in the fresh, clean aroma of Lemon while getting your dishes spotlessly clean with Ajax Ultra Super Degreaser Lemon Dishwashing Liquid. It is formulated with natural citrus extracts and powerful ingredients. It removes tough, baked-on food residue, dirt, soil and grease. This washing liquid is kosher and phosphate free. Dish soap, dishsoap, dishwashing, hand dish soap, hand, moisturizing, non-drying, cuts through grease, greasy, great scent, best, grime, pots, pans, gentle, environmetally friendly, stubborn food, cleaning, scrub, safe, value, concentrated, detergent, gentleness, soapy, mild scent, oil, cutting grease, thick, stuck on food, detergent
Ingredients
Strength; Ammonium Lauryl Sulfate; Ammonium Laureth Sulfate or Ammonium C12-15 Alkyl Sulfate; Ammonium C12-15 Pareth Sulfate; Sodium Chloride; Lauramidopropylamine Oxide; Poloxamer 124; Fragrance; Pentasodium Pentetate; Methylisothiazolinone; Benzisothiazolinone; Colorants; Water;
Product Number: 00035000446275
Sale Information
On Sale!
Sales price valid from 1/29/2023 until 2/4/2023
Description
Ajax Ultra Super Degreaser Lemon Dish Liquid, 14 fl oz Delight in the fresh, clean aroma of Lemon while getting your dishes spotlessly clean with Ajax Ultra Super Degreaser Lemon Dishwashing Liquid. It is formulated with natural citrus extracts and powerful ingredients. It removes tough, baked-on food residue, dirt, soil and grease. This washing liquid is kosher and phosphate free. Dish soap, dishsoap, dishwashing, hand dish soap, hand, moisturizing, non-drying, cuts through grease, greasy, great scent, best, grime, pots, pans, gentle, environmetally friendly, stubborn food, cleaning, scrub, safe, value, concentrated, detergent, gentleness, soapy, mild scent, oil, cutting grease, thick, stuck on food, detergent
Product Number: 00035000446275
Ingredients
Strength; Ammonium Lauryl Sulfate; Ammonium Laureth Sulfate or Ammonium C12-15 Alkyl Sulfate; Ammonium C12-15 Pareth Sulfate; Sodium Chloride; Lauramidopropylamine Oxide; Poloxamer 124; Fragrance; Pentasodium Pentetate; Methylisothiazolinone; Benzisothiazolinone; Colorants; Water;
Product Number: 00035000446275