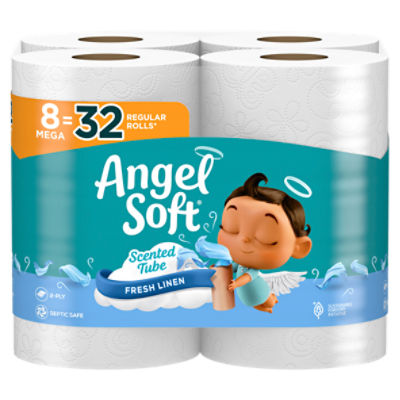 ASBT 8M BRK 320/8/8 LIN CS
Sale Information
On Sale!
Sales price valid from 1/27/2023 until 2/2/2023
Description
ASBT 8M BRK 320/8/8 LIN CS Enjoy the soft scent of fresh linen every time you use Angel Soft® with Fresh Linen Scented Tube. Now 20% thicker sheets! The cardboard tube is scented to deliver a clean scent that is subtle and welcoming. Angel Soft® offers An Ideal Balance of Softness and Strength® to reliably deliver the quality you want at a price you will love. Each Angel Soft with Fresh Linen Scent mega roll has 320 2-ply sheets and is designed to fit in standard bathroom toilet paper holders. 8 mega rolls = 32 regular rolls, so you won't have to change rolls as often. Angel Soft® is safe for use in standard sewer and septic systems, breaking down easily after flushing for a hassle-free use. Angel Soft® Toilet Paper is certified to the Sustainable Forestry Initiative (SFI) sourcing standards. 8 Mega = 32 Regular Rolls* *based on number of sheets in Angel Soft® Regular Roll Angel Soft® with fresh linen scent offers all of the softness and the strength you need - with scent applied directly to the cardboard tube to add the smell of fresh linen! 2-ply with SoftShield® layers
Product Number: 00030400794421
Sale Information
On Sale!
Sales price valid from 1/27/2023 until 2/2/2023
Description
ASBT 8M BRK 320/8/8 LIN CS Enjoy the soft scent of fresh linen every time you use Angel Soft® with Fresh Linen Scented Tube. Now 20% thicker sheets! The cardboard tube is scented to deliver a clean scent that is subtle and welcoming. Angel Soft® offers An Ideal Balance of Softness and Strength® to reliably deliver the quality you want at a price you will love. Each Angel Soft with Fresh Linen Scent mega roll has 320 2-ply sheets and is designed to fit in standard bathroom toilet paper holders. 8 mega rolls = 32 regular rolls, so you won't have to change rolls as often. Angel Soft® is safe for use in standard sewer and septic systems, breaking down easily after flushing for a hassle-free use. Angel Soft® Toilet Paper is certified to the Sustainable Forestry Initiative (SFI) sourcing standards. 8 Mega = 32 Regular Rolls* *based on number of sheets in Angel Soft® Regular Roll Angel Soft® with fresh linen scent offers all of the softness and the strength you need - with scent applied directly to the cardboard tube to add the smell of fresh linen! 2-ply with SoftShield® layers
Product Number: 00030400794421
Product Number: 00030400794421