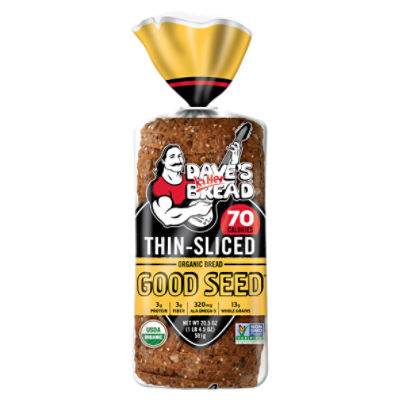 Dave's Killer Bread Good Seed Thin-Sliced, Organic Bread, 20.5 Ounce
Sale Information
On Sale!
Sales price valid from 9/30/2022 until 10/6/2022
Description
Dave's Killer Bread Good Seed Thin-Sliced Organic Bread, 20.5 oz Loaded with a seedy texture and sweet flavor, Good Seed® Thin-Sliced has 70 calories per slice. That's what we call big nutrition in a little slice! Made for Greatness® Always made with killer taste and texture
Ingredients
Water; Organic Whole Wheat Flour; Organic Cracked Whole Wheat; Organic Seed Mix (Organic Flax Seeds, Organic Sunflower Seeds, Organic Brown Sesame Seeds, Organic Black Sesame Seeds); Organic Cane Sugar; Organic Wheat Gluten; Organic Oat Fiber; Contains 2% or less of each of the following: Organic Steel Cut Oats, Organic Molasses, Organic Milled Flax Seeds, Sea Salt, Yeast, Organic Expeller Pressed Canola Oil, Organic Vinegar, Organic Cultured Wheat Flour, Enzymes, Organic Acerola Powder;
Nutrition Facts
21 servings pr container
Product Number: 00013764027121
Sale Information
On Sale!
Sales price valid from 9/30/2022 until 10/6/2022
Description
Dave's Killer Bread Good Seed Thin-Sliced Organic Bread, 20.5 oz Loaded with a seedy texture and sweet flavor, Good Seed® Thin-Sliced has 70 calories per slice. That's what we call big nutrition in a little slice! Made for Greatness® Always made with killer taste and texture
Product Number: 00013764027121
Ingredients
Water; Organic Whole Wheat Flour; Organic Cracked Whole Wheat; Organic Seed Mix (Organic Flax Seeds, Organic Sunflower Seeds, Organic Brown Sesame Seeds, Organic Black Sesame Seeds); Organic Cane Sugar; Organic Wheat Gluten; Organic Oat Fiber; Contains 2% or less of each of the following: Organic Steel Cut Oats, Organic Molasses, Organic Milled Flax Seeds, Sea Salt, Yeast, Organic Expeller Pressed Canola Oil, Organic Vinegar, Organic Cultured Wheat Flour, Enzymes, Organic Acerola Powder;
Nutrition Facts
21 servings pr container
Product Number: 00013764027121