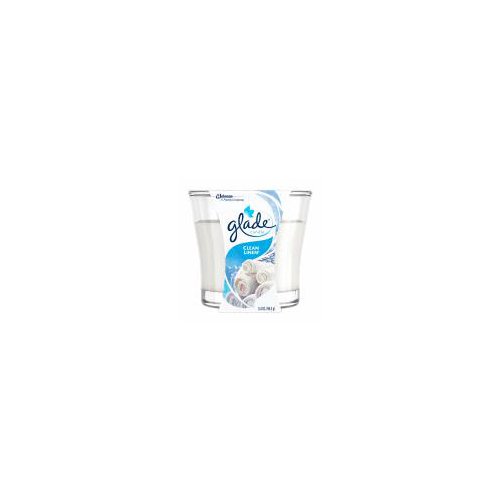 Glade Clean Linen Fragrance Infused with Essential Oils, Candle, 3.4 Ounce
Sale Information
On Sale!
Sales price valid from 9/30/2022 until 10/6/2022
Description
Glade Jar Candle, Clean Linen, Fragrance Candle infused with Essential Oils, 3.4 oz Awaken your senses with Glade Clean Linen Jar Candle. Simply light the wick to quickly fill a room with fragrance infused with essential oils. Scented candle has notes of watery melon, leafy greens, floral freesia and peony that meet to create the long-lasting scent of freshly washed linens. Packaging may vary. • Large scented candle with a whisper of crisp, airy innocence and pure inspiration • New Clean Linen Candle fills your room with long-lasting scent • Fragrance candle infused with essential oils • Freshen your living room, kitchen, bedroom and more with a Glade candle • Me Time. We have a fragrance for that Inspired from childhood memories of line-dried laundry... fragrance crafted with notes of crisp air and watery melon
Ingredients
Synthetic Wax; Petrolatum; Microcrystalline Wax; Fragrances; Polyoxypropylene (12) Dimethicone; SCJ Formula # 35*23245;
Product Number: 00046500769580
Sale Information
On Sale!
Sales price valid from 9/30/2022 until 10/6/2022
Description
Glade Jar Candle, Clean Linen, Fragrance Candle infused with Essential Oils, 3.4 oz Awaken your senses with Glade Clean Linen Jar Candle. Simply light the wick to quickly fill a room with fragrance infused with essential oils. Scented candle has notes of watery melon, leafy greens, floral freesia and peony that meet to create the long-lasting scent of freshly washed linens. Packaging may vary. • Large scented candle with a whisper of crisp, airy innocence and pure inspiration • New Clean Linen Candle fills your room with long-lasting scent • Fragrance candle infused with essential oils • Freshen your living room, kitchen, bedroom and more with a Glade candle • Me Time. We have a fragrance for that Inspired from childhood memories of line-dried laundry... fragrance crafted with notes of crisp air and watery melon
Product Number: 00046500769580
Ingredients
Synthetic Wax; Petrolatum; Microcrystalline Wax; Fragrances; Polyoxypropylene (12) Dimethicone; SCJ Formula # 35*23245;
Product Number: 00046500769580