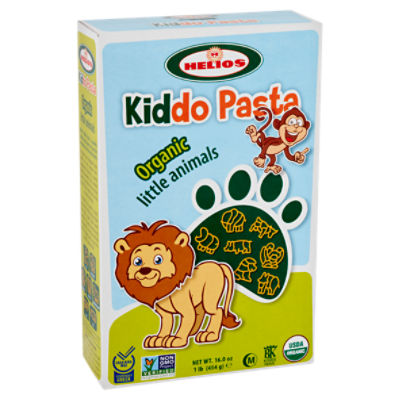 Helios Kiddo Pasta Organic Little Animals, Pasta, 16 Ounce
Sale Information
On Sale!
Sales price valid from 9/23/2022 until 9/29/2022
Description
Helios Kiddo Pasta Organic Little Animals Pasta, 16 oz Pasta from 100% Semolina of Organic Durum Wheat Helios' Kiddo Pasta is specially crafted for kids ages 2 to 8, yet fun and delicious for the whole family! The unique and recognizable pasta shapes not only stimulate kids' imaginations, but lead to a yummy learning experience! Every amazing shape in our Kiddo Pasta line brings an exciting new world to life for kids to explore and enjoy. Our Kiddo Pasta is perfect in salads, soups, and even delicious plain! Made from 100% organic durum wheat semolina, it's a great source of energy and nutrients to meet the nutritional needs of growing kids as part of a healthy, balanced diet. Lion, Elephant, Antelope, Monkey, Hippopotamus, Cow, Pig
Ingredients
Organic Durum Wheat Semolina; Water;
Nutrition Facts
servings pr container
Product Number: 00857802003131
Sale Information
On Sale!
Sales price valid from 9/23/2022 until 9/29/2022
Description
Helios Kiddo Pasta Organic Little Animals Pasta, 16 oz Pasta from 100% Semolina of Organic Durum Wheat Helios' Kiddo Pasta is specially crafted for kids ages 2 to 8, yet fun and delicious for the whole family! The unique and recognizable pasta shapes not only stimulate kids' imaginations, but lead to a yummy learning experience! Every amazing shape in our Kiddo Pasta line brings an exciting new world to life for kids to explore and enjoy. Our Kiddo Pasta is perfect in salads, soups, and even delicious plain! Made from 100% organic durum wheat semolina, it's a great source of energy and nutrients to meet the nutritional needs of growing kids as part of a healthy, balanced diet. Lion, Elephant, Antelope, Monkey, Hippopotamus, Cow, Pig
Product Number: 00857802003131
Ingredients
Organic Durum Wheat Semolina; Water;
Nutrition Facts
servings pr container
Product Number: 00857802003131