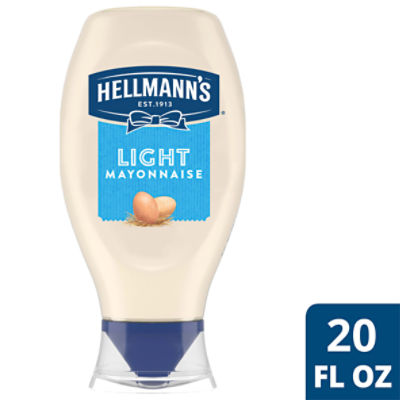 HELLMANNS Light Mayonnaise Light Mayo Squeeze Bottle 20 oz
Sale Information
On Sale!
Sale price valid from 2/3/2023 until 2/9/2023
Description
HELLMANNS Light Mayonnaise Light Mayo Squeeze Bottle 20 oz Enjoy the deliciously light, creamy taste of America's #1 light mayonnaise! Made with 100% cage-free eggs, Hellmann's Light Mayonnaise has only 35 calories per tablespoon and 3.5g of fat per serving — that's 60% less fat and calories but all the rich, creamy flavor of Hellmann's Real Mayonnaise. And it comes in an easy-to-use mayo squeeze bottle for your convenience. Our Light Mayonnaise is also a good source of Omega-3-ALA (it contains 230 mg ALA per serving, which is 14% of the 1.6g Daily Value for ALA), and it's also gluten-free and certified kosher. People really love the taste of our Light Mayonnaise; it won a national blind taste test of leading brands among people with a preference. It's so good people can't tell the difference versus regular mayonnaise. We know that to really "Bring Out the Best,'' we need to do more than just create products that taste good. That's why our delicious Blue Ribbon Quality Mayonnaise is made with ingredients sourced from trusted American farms, including 100% cage-free eggs and 100% responsibly sourced soybean oil. Even after 100 years, we're still committed to using premium ingredients to craft the highest quality mayonnaise. Our light mayo is the ideal condiment for spreading on sandwiches and wraps, grilling juicy burgers, mixing creamy dips, and preparing fresh salads and simple meals. Find delicious recipes you can easily make at home with Hellmann's Mayonnaise on our website, Hellmanns.com. Hellmann's is known as Best Foods west of the Rockies. Per Serving This Product: Calories 35; Fat 3.5g Regular Mayonnaise: Calories 90; Fat 10g
Ingredients
Water; Soybean Oil; Modified Food Starch (Corn, Potato)*; Sugar; Distilled Vinegar; Salt; Whole Eggs; Egg Yolks; Lemon Juice Concentrate; Sorbic Acid* and Calcium Disodium EDTA (used to protect quality); Natural Flavor; Paprika Extract; Vitamin E; *Ingredients not found in regular Mayonnaise;
Nutrition Facts
servings pr container
Product Number: 00048001354289
Sale Information
On Sale!
Sale price valid from 2/3/2023 until 2/9/2023
Description
HELLMANNS Light Mayonnaise Light Mayo Squeeze Bottle 20 oz Enjoy the deliciously light, creamy taste of America's #1 light mayonnaise! Made with 100% cage-free eggs, Hellmann's Light Mayonnaise has only 35 calories per tablespoon and 3.5g of fat per serving — that's 60% less fat and calories but all the rich, creamy flavor of Hellmann's Real Mayonnaise. And it comes in an easy-to-use mayo squeeze bottle for your convenience. Our Light Mayonnaise is also a good source of Omega-3-ALA (it contains 230 mg ALA per serving, which is 14% of the 1.6g Daily Value for ALA), and it's also gluten-free and certified kosher. People really love the taste of our Light Mayonnaise; it won a national blind taste test of leading brands among people with a preference. It's so good people can't tell the difference versus regular mayonnaise. We know that to really "Bring Out the Best,'' we need to do more than just create products that taste good. That's why our delicious Blue Ribbon Quality Mayonnaise is made with ingredients sourced from trusted American farms, including 100% cage-free eggs and 100% responsibly sourced soybean oil. Even after 100 years, we're still committed to using premium ingredients to craft the highest quality mayonnaise. Our light mayo is the ideal condiment for spreading on sandwiches and wraps, grilling juicy burgers, mixing creamy dips, and preparing fresh salads and simple meals. Find delicious recipes you can easily make at home with Hellmann's Mayonnaise on our website, Hellmanns.com. Hellmann's is known as Best Foods west of the Rockies. Per Serving This Product: Calories 35; Fat 3.5g Regular Mayonnaise: Calories 90; Fat 10g
Product Number: 00048001354289
Ingredients
Water; Soybean Oil; Modified Food Starch (Corn, Potato)*; Sugar; Distilled Vinegar; Salt; Whole Eggs; Egg Yolks; Lemon Juice Concentrate; Sorbic Acid* and Calcium Disodium EDTA (used to protect quality); Natural Flavor; Paprika Extract; Vitamin E; *Ingredients not found in regular Mayonnaise;
Nutrition Facts
servings pr container
Product Number: 00048001354289