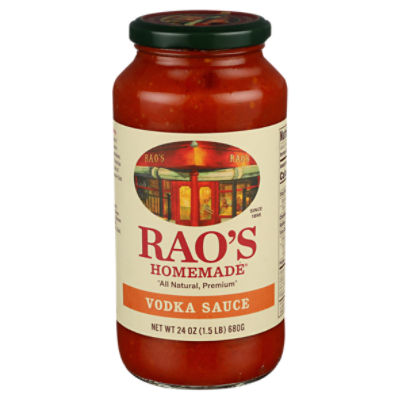 Rao's Homemade Vodka, Sauce, 24 Ounce
Sale Information
On Sale!
Sales price valid from 12/4/2022 until 12/10/2022
Description
Rao's Vodka Sauce, 24 oz Rao's Homemade Vodka Sauce features a rich blend of Italian tomatoes, Parmigiano Reggiano and Pecorino Romano cheeses and a splash of vodka to create a creamy and bright pasta sauce. Following the authenticly Italian Rao's Homemade recipe, every jar of sauce brings you the warm, classic flavor of homemade tomato sauce. Each batch of Rao's Homemade Vodka pasta sauce is slow-cooked in small batches with high quality ingredients. These wholesome ingredients blend 100% sweet Italian tomatoes, olive oil, Parmesan and Romano cheeses, onion, garlic, basil, oregano and vodka creating a well-balanced spaghetti sauce that is sure to please everyone around the table. The Rao's Vodka pasta sauce recipe stays true to its classic Italian roots with no added sugar* making it a delicious carb conscious pasta sauce that is Keto-friendly. Not only is this premium sauce delicious, and made with the finest ingredients, it does not contain any tomato blends, tomato paste, starches or added colors. Rao's Homemade, originally born in New York, now brings authentic Italian flavor into your home. Rao's vodka pasta sauce is a versatile carb conscious pasta sauce that offers truly traditional homemade Italian flavor, easily available anytime to pair with your preferred pasta, to use as an ingredient in your favorite recipe, or to make a bowl of classic Penne alla Vodka Sauce. *Not a low or reduced calorie food, see nutrition panel for further information on Sugar and Calorie content
Ingredients
Italian Whole Peeled Tomatoes; Olive Oil; Parmesan Cheese (Cow's Milk, Salt, Rennet); Whey; Romano Cheese (Pasteurized Sheep's Milk, Rennet, Salt); Onions; Salt; Garlic; Basil; Black Pepper; Vodka; Oregano;
Nutrition Facts
5 servings pr container
Product Number: 00747479000130
Sale Information
On Sale!
Sales price valid from 12/4/2022 until 12/10/2022
Description
Rao's Vodka Sauce, 24 oz Rao's Homemade Vodka Sauce features a rich blend of Italian tomatoes, Parmigiano Reggiano and Pecorino Romano cheeses and a splash of vodka to create a creamy and bright pasta sauce. Following the authenticly Italian Rao's Homemade recipe, every jar of sauce brings you the warm, classic flavor of homemade tomato sauce. Each batch of Rao's Homemade Vodka pasta sauce is slow-cooked in small batches with high quality ingredients. These wholesome ingredients blend 100% sweet Italian tomatoes, olive oil, Parmesan and Romano cheeses, onion, garlic, basil, oregano and vodka creating a well-balanced spaghetti sauce that is sure to please everyone around the table. The Rao's Vodka pasta sauce recipe stays true to its classic Italian roots with no added sugar* making it a delicious carb conscious pasta sauce that is Keto-friendly. Not only is this premium sauce delicious, and made with the finest ingredients, it does not contain any tomato blends, tomato paste, starches or added colors. Rao's Homemade, originally born in New York, now brings authentic Italian flavor into your home. Rao's vodka pasta sauce is a versatile carb conscious pasta sauce that offers truly traditional homemade Italian flavor, easily available anytime to pair with your preferred pasta, to use as an ingredient in your favorite recipe, or to make a bowl of classic Penne alla Vodka Sauce. *Not a low or reduced calorie food, see nutrition panel for further information on Sugar and Calorie content
Product Number: 00747479000130
Ingredients
Italian Whole Peeled Tomatoes; Olive Oil; Parmesan Cheese (Cow's Milk, Salt, Rennet); Whey; Romano Cheese (Pasteurized Sheep's Milk, Rennet, Salt); Onions; Salt; Garlic; Basil; Black Pepper; Vodka; Oregano;
Nutrition Facts
5 servings pr container
Product Number: 00747479000130