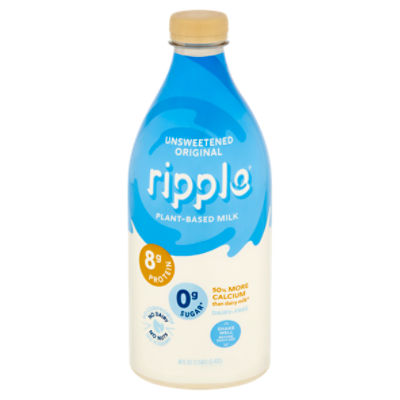 Ripple Unsweetened Original Plant-Based, Milk, 48 Fluid ounce
$5.30
was $6.79
$0.11/fl oz
Sale Information
On Sale!
Sales price valid from 9/23/2022 until 9/29/2022
Description
Ripple Unsweetened Original Plant-Based Milk, 48 fl oz 0g Sugar* 50% More Calcium than dairy milk* *Not a low-calorie food. 1 cup of dairy milk contains 293mg (20%DV) of calcium vs 1 cup Ripple Unsweetened Original Milk contains 440mg (30%DV) of calcium. Dairy milk data from USDA National Nutrient Database for Standard Reference, Legacy. April 2018. Drink Your Pea... Your Body and the Planet Will Thank You Never heard of the humble yellow pea? Yep, it's an unsung hero. It is one of the more sustainable, protein-dense plants on earth. And it takes 6x less water to grow than almonds for almond milk! So thanks for making a small (but awesome) choice that helps create - you guessed it - a Ripple® effect. Ripple® is made with 100% vegan pea protein Ripple® is made without Soy, Nuts, Gluten, Lactose
Ingredients
Water; Pea Protein Blend (Water, Pea Protein); Sunflower Oil; Contains less than 1% of Vitamin A Palmitate, Vitamin D2, Vitamin B12, DHA Algal Oil, Tricalcium Phosphate, Dipotassium Phosphate, Sunflower Lecithin, Sea Salt, Mixed Tocopherols (to preserve freshness), Natural Flavor, Guar Gum, Gellan Gum;
Nutrition Facts
servings pr container
Product Number: 00855643006045
Sale Information
On Sale!
Sales price valid from 9/23/2022 until 9/29/2022
Description
Ripple Unsweetened Original Plant-Based Milk, 48 fl oz 0g Sugar* 50% More Calcium than dairy milk* *Not a low-calorie food. 1 cup of dairy milk contains 293mg (20%DV) of calcium vs 1 cup Ripple Unsweetened Original Milk contains 440mg (30%DV) of calcium. Dairy milk data from USDA National Nutrient Database for Standard Reference, Legacy. April 2018. Drink Your Pea... Your Body and the Planet Will Thank You Never heard of the humble yellow pea? Yep, it's an unsung hero. It is one of the more sustainable, protein-dense plants on earth. And it takes 6x less water to grow than almonds for almond milk! So thanks for making a small (but awesome) choice that helps create - you guessed it - a Ripple® effect. Ripple® is made with 100% vegan pea protein Ripple® is made without Soy, Nuts, Gluten, Lactose
Product Number: 00855643006045
Ingredients
Water; Pea Protein Blend (Water, Pea Protein); Sunflower Oil; Contains less than 1% of Vitamin A Palmitate, Vitamin D2, Vitamin B12, DHA Algal Oil, Tricalcium Phosphate, Dipotassium Phosphate, Sunflower Lecithin, Sea Salt, Mixed Tocopherols (to preserve freshness), Natural Flavor, Guar Gum, Gellan Gum;
Nutrition Facts
servings pr container
Product Number: 00855643006045