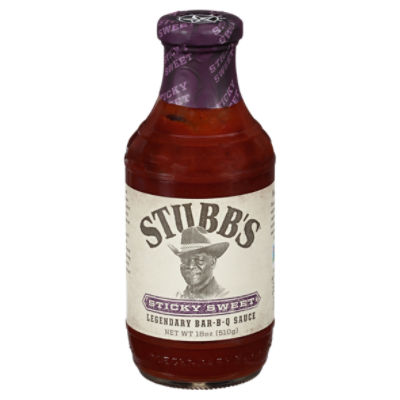 Stubb's Sticky Sweet Legendary Bar-B-Q Sauce, 18 oz
Sale Information
On Sale!
Sale price valid from 2/3/2023 until 2/9/2023
Description
Stubb's Sticky Sweet Legendary Bar-B-Q Sauce, 18 oz Stubb's Sticky Sweet Barbecue Sauce is the perfect sauce for a barbecue lover. Made with sweet molasses and brown sugar, this thick, rich sauce is dripping with sticky sweetness that you're gonna love on anything you put on the grill. The story goes that Stubb, who loved music and a good road trip, would load his Cadillac with a batch of barbecue he cooked up and head to Memphis. Then he'd find out who was playing a gig that night, show up and turn his food into a backstage pass. After trying some sweet Memphis-style barbecue sauces, he came back to Texas and made his own version. And he sure did make a delicious one. You've never had pork ribs until you've had made them with this sweet Southern-style barbecue sauce. For quality barbecue done right, use Stubb's Sauces, Rubs & Marinades, all made with his secret ingredient "Love and Happiness."
Ingredients
Tomato Puree (Water, Tomato Paste); Brown Sugar; Sugar; Apple Cider Vinegar; Distilled Vinegar; Molasses; Water; Corn Starch; Salt; Spices (including Paprika); Onion; Contains less than 0.5% of: Garlic, Natural Flavor (including Hickory Smoke);
Nutrition Facts
15 servings pr container
Product Number: 00734756000105
Sale Information
On Sale!
Sale price valid from 2/3/2023 until 2/9/2023
Description
Stubb's Sticky Sweet Legendary Bar-B-Q Sauce, 18 oz Stubb's Sticky Sweet Barbecue Sauce is the perfect sauce for a barbecue lover. Made with sweet molasses and brown sugar, this thick, rich sauce is dripping with sticky sweetness that you're gonna love on anything you put on the grill. The story goes that Stubb, who loved music and a good road trip, would load his Cadillac with a batch of barbecue he cooked up and head to Memphis. Then he'd find out who was playing a gig that night, show up and turn his food into a backstage pass. After trying some sweet Memphis-style barbecue sauces, he came back to Texas and made his own version. And he sure did make a delicious one. You've never had pork ribs until you've had made them with this sweet Southern-style barbecue sauce. For quality barbecue done right, use Stubb's Sauces, Rubs & Marinades, all made with his secret ingredient "Love and Happiness."
Product Number: 00734756000105
Ingredients
Tomato Puree (Water, Tomato Paste); Brown Sugar; Sugar; Apple Cider Vinegar; Distilled Vinegar; Molasses; Water; Corn Starch; Salt; Spices (including Paprika); Onion; Contains less than 0.5% of: Garlic, Natural Flavor (including Hickory Smoke);
Nutrition Facts
15 servings pr container
Product Number: 00734756000105