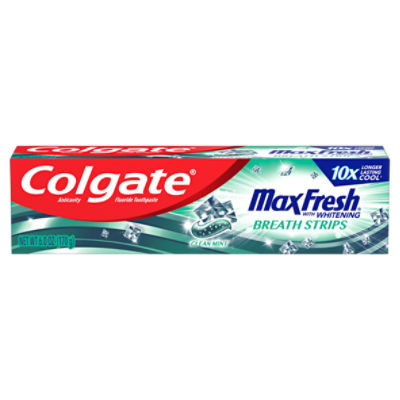 Colgate MaxFresh Clean Mint, Toothpaste, 6 Ounce
Sale Information
On Sale!
Sales price valid from 8/12/2022 until 8/18/2022
Description
Colgate MaxFresh Clean Mint Toothpaste, 6.0 oz Anticavity Fluoride Toothpaste Bursting with freshness that lasts for hours! Invigorates your brushing experience and leaves your breath feeling fresh for hours. ✓ Fights cavities ✓ Whitens teeth ✓ Freshness breath Use Helps protect against cavities Drug Facts Active ingredient - Purpose Sodium fluoride 0.24% (0.15% w/v fluoride ion) - Anticavity
Ingredients
Inactive Ingredients: Sorbitol, Water, Hydrated Silica, PEG-12, Sodium Lauryl Sulfate, Flavor, Cellulose Gum, Tetrasodium Pyrophosphate, Cocamidopropyl Betaine, Sodium Saccharin, Methylcellulose, Titanium Dioxide, FD&C Blue No. 1, FD&C Yellow No. 5;
Product Number: 00035000764690
Sale Information
On Sale!
Sales price valid from 8/12/2022 until 8/18/2022
Description
Colgate MaxFresh Clean Mint Toothpaste, 6.0 oz Anticavity Fluoride Toothpaste Bursting with freshness that lasts for hours! Invigorates your brushing experience and leaves your breath feeling fresh for hours. ✓ Fights cavities ✓ Whitens teeth ✓ Freshness breath Use Helps protect against cavities Drug Facts Active ingredient - Purpose Sodium fluoride 0.24% (0.15% w/v fluoride ion) - Anticavity
Product Number: 00035000764690
Ingredients
Inactive Ingredients: Sorbitol, Water, Hydrated Silica, PEG-12, Sodium Lauryl Sulfate, Flavor, Cellulose Gum, Tetrasodium Pyrophosphate, Cocamidopropyl Betaine, Sodium Saccharin, Methylcellulose, Titanium Dioxide, FD&C Blue No. 1, FD&C Yellow No. 5;
Product Number: 00035000764690