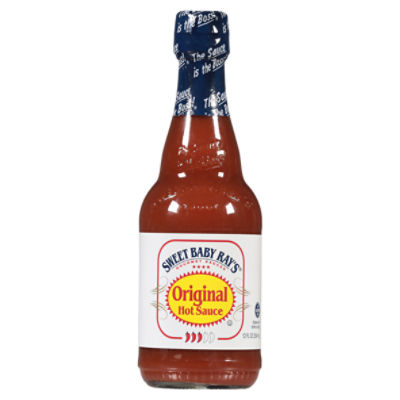 Sweet Baby Ray's Hot Sauce, 12 Fluid ounce
$3.49
was $3.99
$0.29/fl oz
Sale Information
On Sale!
Sales price valid from 8/12/2022 until 8/18/2022
Description
Sweet Baby Ray's Hot Sauce, 12 fl oz The premium aged cayenne peppers and garlic in Sweet Baby Ray's Hot Sauce create a balanced blend of heat and flavor to make this the perfect ''sauce on the side'' of whatever you're eating. Now more than ever: ''The Sauce is the Boss.'' Sweet Baby Ray
Ingredients
Aged Cayenne Pepper; Distilled Vinegar; Water; Salt; Contains less than 2% of Xanthan Gum, Dried Garlic;
Nutrition Facts
servings pr container
Product Number: 00013409516867
Sale Information
On Sale!
Sales price valid from 8/12/2022 until 8/18/2022
Description
Sweet Baby Ray's Hot Sauce, 12 fl oz The premium aged cayenne peppers and garlic in Sweet Baby Ray's Hot Sauce create a balanced blend of heat and flavor to make this the perfect ''sauce on the side'' of whatever you're eating. Now more than ever: ''The Sauce is the Boss.'' Sweet Baby Ray
Product Number: 00013409516867
Ingredients
Aged Cayenne Pepper; Distilled Vinegar; Water; Salt; Contains less than 2% of Xanthan Gum, Dried Garlic;
Nutrition Facts
servings pr container
Product Number: 00013409516867