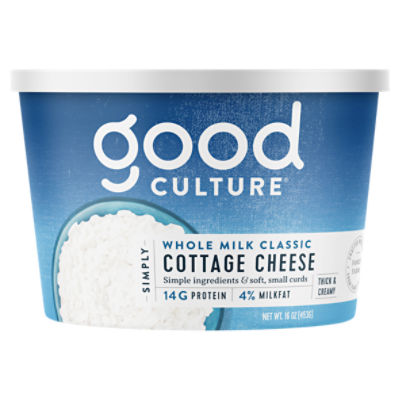 Good Culture Cottage Cheese, Whole Milk Classic, 16 Ounce
Sale Information
On Sale!
Sales price valid from 5/15/2022 until 5/21/2022
Description
Good Culture Whole Milk Classic Cottage Cheese, 16 ozMilk from Cows Not Treated with the Growth Hormone rBST Made from stuff you can pronounce, produced by people who love the planet and who really, really like cottage cheese. What's so Good About It? - Live & Active Cultures - High Protein - Thick & Creamy - Sea Salt - No Gums - No Carrageenan - No Chemical Preservatives - No Added Hormones - No Artificial Anything
Ingredients
Skim Milk; Whole Milk; Cream; Sea Salt; Live and Active Cultures (Lactococcus Ssp. Lactobacillus Ssp.);
Nutrition Facts
servings pr container
Product Number: 00859977005125
Sale Information
On Sale!
Sales price valid from 5/15/2022 until 5/21/2022
Description
Good Culture Whole Milk Classic Cottage Cheese, 16 ozMilk from Cows Not Treated with the Growth Hormone rBST Made from stuff you can pronounce, produced by people who love the planet and who really, really like cottage cheese. What's so Good About It? - Live & Active Cultures - High Protein - Thick & Creamy - Sea Salt - No Gums - No Carrageenan - No Chemical Preservatives - No Added Hormones - No Artificial Anything
Product Number: 00859977005125
Ingredients
Skim Milk; Whole Milk; Cream; Sea Salt; Live and Active Cultures (Lactococcus Ssp. Lactobacillus Ssp.);
Nutrition Facts
servings pr container
Product Number: 00859977005125