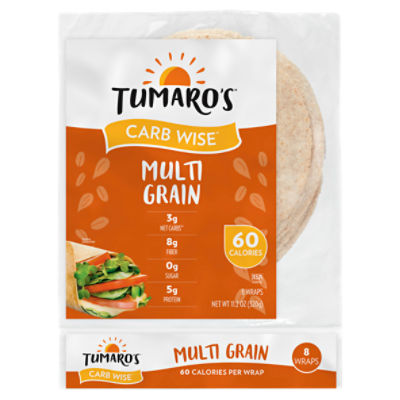 Tumaro's Carb Wise Wrap, Multi Grain, 8 Each
Sale Information
On Sale!
Sales price valid from 7/1/2022 until 7/7/2022
Description
Tumaro's Carb Wise Multi Grain Wraps, 8 count, 11.2 oz How to Calculate Net Carbs Total carbohydrates less the total dietary fiber provides total net carbs. 11g total carbs - 8g dietary fiber = 3 net carbs
Ingredients
Water; Oat Fiber; Wheat Gluten; Whole Wheat Flour; Soy Flour; Canola Oil; Calcium Propionate*; Mono & Diglycerides; Baking Powder (Corn Starch, Sodium Acid Pyrophosphate, Sodium Bicarbonate, Monocalcium Phosphate); Salt; Soy Lecithin; Sesame Flour; Potassium Sorbate*; Fumaric Acid*; Xanthan Gum; Guar Gum; Sodium Metabisulfite*; †Preservatives used to maintain freshness;
Product Number: 00849455000032
Sale Information
On Sale!
Sales price valid from 7/1/2022 until 7/7/2022
Description
Tumaro's Carb Wise Multi Grain Wraps, 8 count, 11.2 oz How to Calculate Net Carbs Total carbohydrates less the total dietary fiber provides total net carbs. 11g total carbs - 8g dietary fiber = 3 net carbs
Product Number: 00849455000032
Ingredients
Water; Oat Fiber; Wheat Gluten; Whole Wheat Flour; Soy Flour; Canola Oil; Calcium Propionate*; Mono & Diglycerides; Baking Powder (Corn Starch, Sodium Acid Pyrophosphate, Sodium Bicarbonate, Monocalcium Phosphate); Salt; Soy Lecithin; Sesame Flour; Potassium Sorbate*; Fumaric Acid*; Xanthan Gum; Guar Gum; Sodium Metabisulfite*; †Preservatives used to maintain freshness;
Product Number: 00849455000032