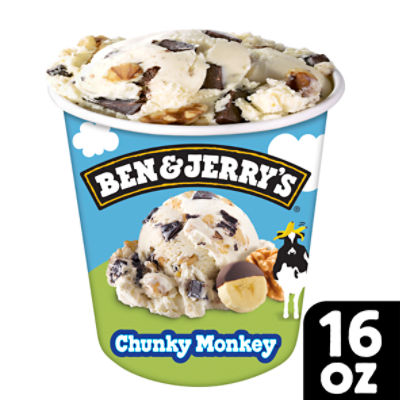 Ben & Jerry's Chunky Monkey, Ice Cream, 16 Ounce
Sale Information
On Sale!
Sales price valid from 9/30/2022 until 10/6/2022
Description
Ben & Jerry's Ice Cream Chunky Monkey 16 oz Ben & Jerry's Banana ice cream with fudge chunks and walnuts: the nuttiest chocolatey-chunkiest concoction-gone-bananas you'll ever go ape for. This taste sensation was suggested by a college student in New Hampshire, way back in 1988. The idea seemed so perfect that we got started on it right away. Of course, we had to monkey around with bunches of test batches to get it just right, but we did, and the rest is history. Twenty-two years on we made it even sweeter with the addition of Fairtrade bananas. Today it remains one of Ben & Jerry's most iconic flavors. Every time you plunge your spoon into a bowl of Chunky Monkey you're guaranteed to scoop up huge chocolate chunks and perfectly crunchy walnuts all surrounded by impossibly smooth banana ice cream. It's a monkey's dream. Well, actually, plenty of ice cream lover seem to think it's pretty dreamy too. Note: No monkeys were harmed in the making of this ice cream (well, okay, maybe some bananas got a little roughed up). Enjoy! Ben & Jerry's gets all our cocoa, sugar, vanilla and bananas from Fairtrade certified producers. Our ice cream is made with non-GMO sourced ingredients and cage-free eggs. We always use responsibly sourced packaging. Banana Ice Cream with Fudge Chunks & Walnuts
Ingredients
Cream; Skim Milk; Liquid Sugar (Sugar, Water); Water; Sugar; Walnuts; Bananas; Coconut Oil; Egg Yolks; Cocoa (processed with Alkali); Cocoa; Lemon Juice Concentrate; Guar Gum; Natural Flavor; Milk Fat; Carrageenan; Soy Lecithin; Vanilla Extract;
Nutrition Facts
servings pr container
Product Number: 00076840100354
Sale Information
On Sale!
Sales price valid from 9/30/2022 until 10/6/2022
Description
Ben & Jerry's Ice Cream Chunky Monkey 16 oz Ben & Jerry's Banana ice cream with fudge chunks and walnuts: the nuttiest chocolatey-chunkiest concoction-gone-bananas you'll ever go ape for. This taste sensation was suggested by a college student in New Hampshire, way back in 1988. The idea seemed so perfect that we got started on it right away. Of course, we had to monkey around with bunches of test batches to get it just right, but we did, and the rest is history. Twenty-two years on we made it even sweeter with the addition of Fairtrade bananas. Today it remains one of Ben & Jerry's most iconic flavors. Every time you plunge your spoon into a bowl of Chunky Monkey you're guaranteed to scoop up huge chocolate chunks and perfectly crunchy walnuts all surrounded by impossibly smooth banana ice cream. It's a monkey's dream. Well, actually, plenty of ice cream lover seem to think it's pretty dreamy too. Note: No monkeys were harmed in the making of this ice cream (well, okay, maybe some bananas got a little roughed up). Enjoy! Ben & Jerry's gets all our cocoa, sugar, vanilla and bananas from Fairtrade certified producers. Our ice cream is made with non-GMO sourced ingredients and cage-free eggs. We always use responsibly sourced packaging. Banana Ice Cream with Fudge Chunks & Walnuts
Product Number: 00076840100354
Ingredients
Cream; Skim Milk; Liquid Sugar (Sugar, Water); Water; Sugar; Walnuts; Bananas; Coconut Oil; Egg Yolks; Cocoa (processed with Alkali); Cocoa; Lemon Juice Concentrate; Guar Gum; Natural Flavor; Milk Fat; Carrageenan; Soy Lecithin; Vanilla Extract;
Nutrition Facts
servings pr container
Product Number: 00076840100354