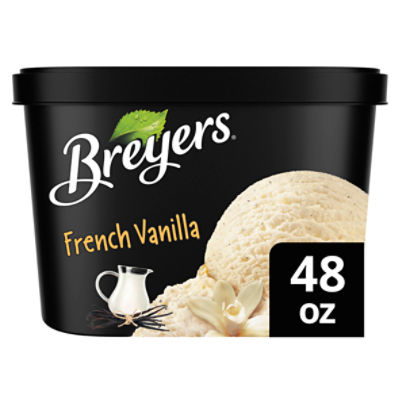 Breyers Classics French Vanilla, Ice Cream, 48 Ounce
Sale Information
On Sale!
Sales price valid from 10/7/2022 until 10/13/2022
Description
Breyers Classics Ice Cream French Vanilla 48 oz It's Breyers French Vanilla Ice Cream! A classic twist on your favorite Breyers Vanilla, French Vanilla was inspired by the traditional French custard. It's our richest, most indulgent vanilla ice cream made with fresh cream, milk, sugar, egg yolks, and sustainable vanilla. Enjoy on its own, or pair with delicious breakfast-style desserts, like French Toast à la Mode, French Vanilla Puff Pancakes, or a Fruit Salad Parfait. When William Breyer started his small ice cream business in Philadelphia in 1866, he based his recipes around simple and pure ingredients. More than 150 years later, we still honor that same philosophy. We always start with high-quality ingredients like fresh cream, milk, and sugar and combine them with naturally sourced colors and flavors for wholesome goodness. This combination is how we create flavors you know and love. Our dairy comes from American farmers who produce 100% Grade A milk and cream from cows not treated with artificial growth hormones*. Discover your new favorite frozen dessert from Breyers' many classic ice cream flavors today, like our Homemade Vanilla Ice Cream and Mint Chocolate Chip ice cream. * The FDA states that no significant difference has been shown between dairy derived from rBST-treated and non-rBST-treated cows. Our Milk & Cream Promise No Artificial Growth Hormones* Used on Cows
Ingredients
Milk; Cream; Sugar; Egg Yolks; Corn Syrup; Whey; Vegetable Gums (Carob Bean, Tara, Guar); Mono And Diglycerides; Natural Flavors; Annatto (for color); Salt;
Nutrition Facts
servings pr container
Product Number: 00077567254382
Sale Information
On Sale!
Sales price valid from 10/7/2022 until 10/13/2022
Description
Breyers Classics Ice Cream French Vanilla 48 oz It's Breyers French Vanilla Ice Cream! A classic twist on your favorite Breyers Vanilla, French Vanilla was inspired by the traditional French custard. It's our richest, most indulgent vanilla ice cream made with fresh cream, milk, sugar, egg yolks, and sustainable vanilla. Enjoy on its own, or pair with delicious breakfast-style desserts, like French Toast à la Mode, French Vanilla Puff Pancakes, or a Fruit Salad Parfait. When William Breyer started his small ice cream business in Philadelphia in 1866, he based his recipes around simple and pure ingredients. More than 150 years later, we still honor that same philosophy. We always start with high-quality ingredients like fresh cream, milk, and sugar and combine them with naturally sourced colors and flavors for wholesome goodness. This combination is how we create flavors you know and love. Our dairy comes from American farmers who produce 100% Grade A milk and cream from cows not treated with artificial growth hormones*. Discover your new favorite frozen dessert from Breyers' many classic ice cream flavors today, like our Homemade Vanilla Ice Cream and Mint Chocolate Chip ice cream. * The FDA states that no significant difference has been shown between dairy derived from rBST-treated and non-rBST-treated cows. Our Milk & Cream Promise No Artificial Growth Hormones* Used on Cows
Product Number: 00077567254382
Ingredients
Milk; Cream; Sugar; Egg Yolks; Corn Syrup; Whey; Vegetable Gums (Carob Bean, Tara, Guar); Mono And Diglycerides; Natural Flavors; Annatto (for color); Salt;
Nutrition Facts
servings pr container
Product Number: 00077567254382