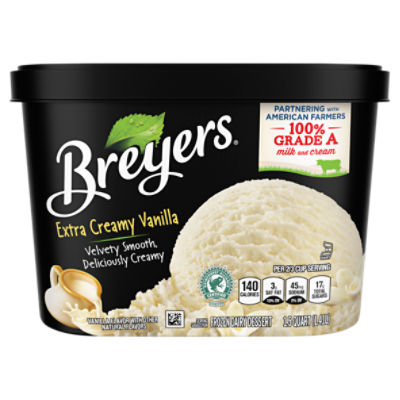 Breyers Extra Creamy Vanilla, Frozen Dairy Dessert, 48 Ounce
Sale Information
On Sale!
Sales price valid from 10/7/2022 until 10/13/2022
Description
Breyers Frozen Dairy Dessert Extra Creamy Vanilla, 48 oz Breyers Extra Creamy Vanilla is our creamiest vanilla. Fresh cream and sweet vanilla come together to make this frozen dairy dessert creamier than ever before! Add this frozen treat to Brownie Bowl Sundaes, Hot Fudge Sundaes, or blend it into a Creamy Mojito Shake. Extra Creamy Vanilla makes them all extra dreamy. We start with fresh cream, sugar, and milk, and real cocoa. In fact, we're obsessed with the quality of the ingredients that we put into our ice creams and frozen dairy desserts. That's why we partner with American farmers for 100% Grade A milk and cream from cows not treated with artificial growth hormones.* We also use colors and flavors from natural sources and sustainably farmed fruit and vanilla.** We work with the Rainforest Alliance to source our vanilla from farmers in Madagascar, providing income to small farmers and their communities. Our commitments to using these high-quality ingredients stem from the philosophy of our founder, William Breyer. Back in 1866, he established a Pledge of Purity to use real, quality ingredients in his ice cream products in Philadelphia. He believed that this is what made his ice cream so good. And we agree, which is why we follow his same mentality. We hope you give Breyers Extra Creamy Vanilla a try and agree. Leave us a review at Breyers.com to let us know! * The FDA states that no significant difference has been shown between dairy derived from rBST-treated and non-rBST-treated cows. **Our product, before the inclusion of any candies, cookies, sauces, or fruit from other suppliers, will fully abide by this claim. Partnering with American Farmers - 100% Grade A milk and cream Our creamiest Vanilla. Fresh cream & sweet Vanilla come together in every velvety bite. Perfectly Pairs with Shakes & Sundaes
Ingredients
Milk; Sugar; Corn Syrup; Cream; Contains 2% or less than of each of the following: Whey, Vegetable Gums (Carob Bean, Tara, Guar), Mono and Diglycerides, Natural Flavor, Carrageenan, Annatto (for color), Vitamin A Palmitate;
Nutrition Facts
servings pr container
Product Number: 00077567250049
Sale Information
On Sale!
Sales price valid from 10/7/2022 until 10/13/2022
Description
Breyers Frozen Dairy Dessert Extra Creamy Vanilla, 48 oz Breyers Extra Creamy Vanilla is our creamiest vanilla. Fresh cream and sweet vanilla come together to make this frozen dairy dessert creamier than ever before! Add this frozen treat to Brownie Bowl Sundaes, Hot Fudge Sundaes, or blend it into a Creamy Mojito Shake. Extra Creamy Vanilla makes them all extra dreamy. We start with fresh cream, sugar, and milk, and real cocoa. In fact, we're obsessed with the quality of the ingredients that we put into our ice creams and frozen dairy desserts. That's why we partner with American farmers for 100% Grade A milk and cream from cows not treated with artificial growth hormones.* We also use colors and flavors from natural sources and sustainably farmed fruit and vanilla.** We work with the Rainforest Alliance to source our vanilla from farmers in Madagascar, providing income to small farmers and their communities. Our commitments to using these high-quality ingredients stem from the philosophy of our founder, William Breyer. Back in 1866, he established a Pledge of Purity to use real, quality ingredients in his ice cream products in Philadelphia. He believed that this is what made his ice cream so good. And we agree, which is why we follow his same mentality. We hope you give Breyers Extra Creamy Vanilla a try and agree. Leave us a review at Breyers.com to let us know! * The FDA states that no significant difference has been shown between dairy derived from rBST-treated and non-rBST-treated cows. **Our product, before the inclusion of any candies, cookies, sauces, or fruit from other suppliers, will fully abide by this claim. Partnering with American Farmers - 100% Grade A milk and cream Our creamiest Vanilla. Fresh cream & sweet Vanilla come together in every velvety bite. Perfectly Pairs with Shakes & Sundaes
Product Number: 00077567250049
Ingredients
Milk; Sugar; Corn Syrup; Cream; Contains 2% or less than of each of the following: Whey, Vegetable Gums (Carob Bean, Tara, Guar), Mono and Diglycerides, Natural Flavor, Carrageenan, Annatto (for color), Vitamin A Palmitate;
Nutrition Facts
servings pr container
Product Number: 00077567250049