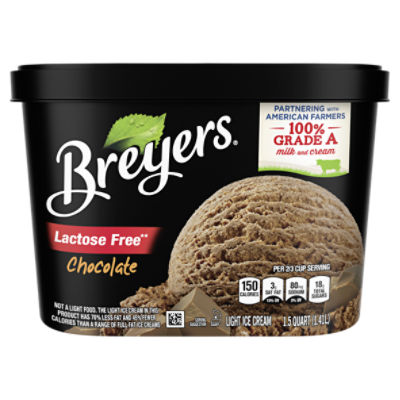 Breyers Lactose Free Chocolate, Light Ice Cream, 48 Ounce
Sale Information
On Sale!
Sales price valid from 10/7/2022 until 10/13/2022
Description
Breyers Light Ice Cream Lactose Free Chocolate 48 oz Have a lactose sensitivity? No problem! Try our Breyers Chocolate Lactose Free Ice Cream! It's the same great chocolate light ice cream, just without the lactose*! A creamy, delicious frozen dessert made with real cocoa. That rich cocoa in this light ice cream is what makes the delicious Breyers chocolate frozen treat that you know and love. We believe that the quality of our ingredients makes the delicious chocolate desserts, and that's why we follow the spirit of William Breyer's Pledge of Purity, which he started in 1866. Back in his day, he made a stand to use only the best milk, cream, sugar, and fruit in his ice cream in Philadelphia. He would not compromise quality, and now more than 150 years later, we still follow his philosophy. We pledge to use only high-quality ingredient like colors and flavors from natural sources, fresh cream, sugar and milk, and sustainably farmed fruit and vanilla. Try our Breyers Lactose-Free Vanilla frozen snack or other favorites like our famous Natural Vanilla Ice Cream, Chocolate Ice Cream and candy ice cream treats, and see if you agree! 99% Lactose Free
Ingredients
Skim Milk; Sugar; Corn Syrup; Cream; Dutched Cocoa (processed with Alkali); Whey; Less than 2% of: Vegetable Gums (Carob Bean, Guar, Tara), Mono And Diglycerides, Salt, Lactase Enzyme, Vitamin A Palmitate, Natural Flavor, Carrageenan.;
Nutrition Facts
servings pr container
Product Number: 00077567305497
Sale Information
On Sale!
Sales price valid from 10/7/2022 until 10/13/2022
Description
Breyers Light Ice Cream Lactose Free Chocolate 48 oz Have a lactose sensitivity? No problem! Try our Breyers Chocolate Lactose Free Ice Cream! It's the same great chocolate light ice cream, just without the lactose*! A creamy, delicious frozen dessert made with real cocoa. That rich cocoa in this light ice cream is what makes the delicious Breyers chocolate frozen treat that you know and love. We believe that the quality of our ingredients makes the delicious chocolate desserts, and that's why we follow the spirit of William Breyer's Pledge of Purity, which he started in 1866. Back in his day, he made a stand to use only the best milk, cream, sugar, and fruit in his ice cream in Philadelphia. He would not compromise quality, and now more than 150 years later, we still follow his philosophy. We pledge to use only high-quality ingredient like colors and flavors from natural sources, fresh cream, sugar and milk, and sustainably farmed fruit and vanilla. Try our Breyers Lactose-Free Vanilla frozen snack or other favorites like our famous Natural Vanilla Ice Cream, Chocolate Ice Cream and candy ice cream treats, and see if you agree! 99% Lactose Free
Product Number: 00077567305497
Ingredients
Skim Milk; Sugar; Corn Syrup; Cream; Dutched Cocoa (processed with Alkali); Whey; Less than 2% of: Vegetable Gums (Carob Bean, Guar, Tara), Mono And Diglycerides, Salt, Lactase Enzyme, Vitamin A Palmitate, Natural Flavor, Carrageenan.;
Nutrition Facts
servings pr container
Product Number: 00077567305497