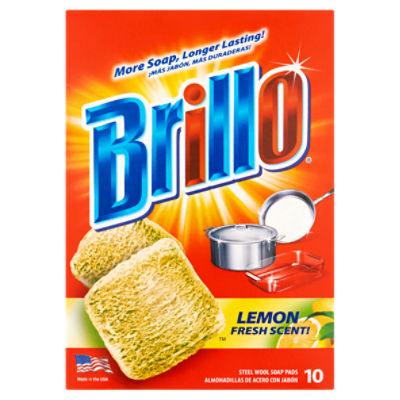 Brillo Lemon Fresh Scent , Steel Wool Soap Pads, 1 Each
Sale Information
On Sale!
Sales price valid from 9/30/2022 until 10/6/2022
Description
Brillo Lemon Fresh Scent! Steel Wool Soap Pads, 10 count Bright Spots Beyond The Sink Brillo helps cut through grime and leaves tough to clean surfaces brilliant wherever you clean. Cookware Silverware, dishes/bowls, bakeware, glassware, utensils, pots & pans Indoors Stovetops/ovens, burners, tile floors, countertops, stainless-steel sinks, glass shower doors Outdoors Barbecue grills, tire/wheels, machinery/tools, outdoor patio, furniture, golf clubs
Product Number: 00070881233200
Sale Information
On Sale!
Sales price valid from 9/30/2022 until 10/6/2022
Description
Brillo Lemon Fresh Scent! Steel Wool Soap Pads, 10 count Bright Spots Beyond The Sink Brillo helps cut through grime and leaves tough to clean surfaces brilliant wherever you clean. Cookware Silverware, dishes/bowls, bakeware, glassware, utensils, pots & pans Indoors Stovetops/ovens, burners, tile floors, countertops, stainless-steel sinks, glass shower doors Outdoors Barbecue grills, tire/wheels, machinery/tools, outdoor patio, furniture, golf clubs
Product Number: 00070881233200
Product Number: 00070881233200