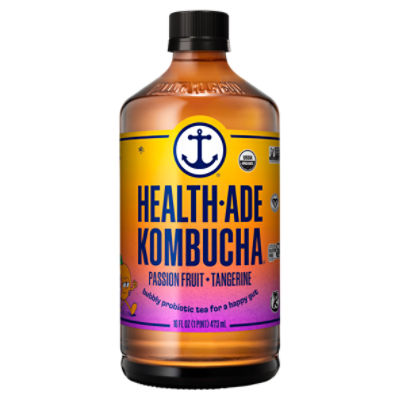 Health-Ade Kombucha Passion Fruit-Tangerine, Probiotic Tea, 16 Fluid ounce
$2.99
was $4.99
$0.19/fl oz
Sale Information
On Sale!
Sales price valid from 9/23/2022 until 9/29/2022
Description
Health-Ade Kombucha Passion Fruit-Tangerine Probiotic Tea, 16 fl oz Follow Your Gut!® Meet Your New Favorite Obsession: Our Passion Fruit-Tangerine Kombucha is Tang-Tasty! The Best Tasting and Highest Quality Kombucha You Can Buy. Fermented in glass Real food handcrafted 2.5 Gallons - small batch kombucha Cold-pressed flavors
Ingredients
Organic Kombucha [Filtered Water, Kombucha Culture (Yeast and Bacteria Cultures), Organic Black Tea, Organic Green Tea, Organic Cane Sugar, Carbonation]; Cold-Pressed Organic Tangerine Juice; Cold-Pressed Organic Passion Fruit Juice; Cold-Pressed Organic Orange Juice;
Nutrition Facts
servings pr container
Product Number: 00851861006867
Sale Information
On Sale!
Sales price valid from 9/23/2022 until 9/29/2022
Description
Health-Ade Kombucha Passion Fruit-Tangerine Probiotic Tea, 16 fl oz Follow Your Gut!® Meet Your New Favorite Obsession: Our Passion Fruit-Tangerine Kombucha is Tang-Tasty! The Best Tasting and Highest Quality Kombucha You Can Buy. Fermented in glass Real food handcrafted 2.5 Gallons - small batch kombucha Cold-pressed flavors
Product Number: 00851861006867
Ingredients
Organic Kombucha [Filtered Water, Kombucha Culture (Yeast and Bacteria Cultures), Organic Black Tea, Organic Green Tea, Organic Cane Sugar, Carbonation]; Cold-Pressed Organic Tangerine Juice; Cold-Pressed Organic Passion Fruit Juice; Cold-Pressed Organic Orange Juice;
Nutrition Facts
servings pr container
Product Number: 00851861006867