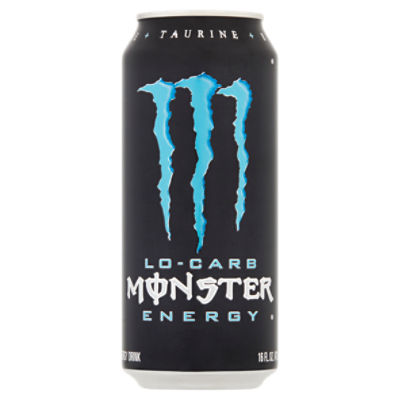 Monster Energy Lo-Carb, Energy Drink, 16 Fluid ounce
$2.46
was $2.79
$0.15/fl oz
Sale Information
On Sale!
Sales price valid from 9/30/2022 until 10/6/2022
Description
Monster Energy Lo-Carb Energy Drink, 16 fl oz Monster Energy Blend: Glucose, taurine, panax ginseng extract, caffeine, L-carnitine, glucuronolactone, inositol, guarana extract, maltodextrin Tear into a can of the meanest energy drink on the planet, Lo-Carb Monster Energy. Low calories, no compromise. That's what Lo-Carb Monster Energy is all about. Get the big bad Monster buzz you know and love, but with a fraction of the calories and carbohydrates. Athletes, musicians, anarchists, co-ed's, road warriors, metal heads, geeks, hipsters, and bikers dig it- you will too. Unleash the Beast!®
Ingredients
Carbonated Water; Glucose; Citric Acid; Natural Flavors; Taurine; Sodium Citrate; Color added; Panax Ginseng Extract; Caffeine; Sorbic Acid (Preservative); Sucralose; Benzoic Acid (Preservative); L-Carnitine L-Tartrate; Niacinamide (Vit. B3); Acesulfame Potassium; Salt; D-Glucuronolactone; Inositol; Guarana Extract; Pyridoxine Hydrochloride (Vit. B6); Riboflavin (Vit. B2); Maltodextrin; Cyanocobalamin (Vit. B12);
Nutrition Facts
2 servings pr container
Product Number: 00070847811268
Sale Information
On Sale!
Sales price valid from 9/30/2022 until 10/6/2022
Description
Monster Energy Lo-Carb Energy Drink, 16 fl oz Monster Energy Blend: Glucose, taurine, panax ginseng extract, caffeine, L-carnitine, glucuronolactone, inositol, guarana extract, maltodextrin Tear into a can of the meanest energy drink on the planet, Lo-Carb Monster Energy. Low calories, no compromise. That's what Lo-Carb Monster Energy is all about. Get the big bad Monster buzz you know and love, but with a fraction of the calories and carbohydrates. Athletes, musicians, anarchists, co-ed's, road warriors, metal heads, geeks, hipsters, and bikers dig it- you will too. Unleash the Beast!®
Product Number: 00070847811268
Ingredients
Carbonated Water; Glucose; Citric Acid; Natural Flavors; Taurine; Sodium Citrate; Color added; Panax Ginseng Extract; Caffeine; Sorbic Acid (Preservative); Sucralose; Benzoic Acid (Preservative); L-Carnitine L-Tartrate; Niacinamide (Vit. B3); Acesulfame Potassium; Salt; D-Glucuronolactone; Inositol; Guarana Extract; Pyridoxine Hydrochloride (Vit. B6); Riboflavin (Vit. B2); Maltodextrin; Cyanocobalamin (Vit. B12);
Nutrition Facts
2 servings pr container
Product Number: 00070847811268