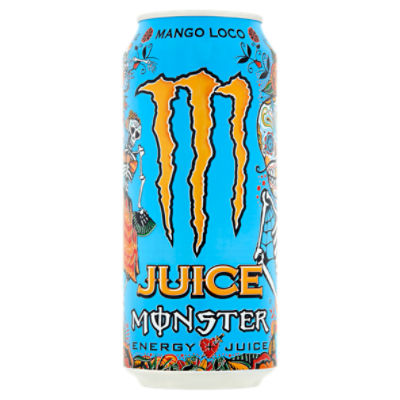 Monster Energy Mango Loco Juice, Energy Drink, 16 Fluid ounce
$2.46
was $2.79
$0.15/fl oz
Sale Information
On Sale!
Sales price valid from 9/30/2022 until 10/6/2022
Description
Monster Energy Mango Loco Juice Energy Drink, 16 fl oz Monster Energy blend: Glucose, taurine, caffeine, L-carnitine, inositol On the eve of October 31st each year friends and family gather to celebrate ''Dia de los Muertos''. Marigolds, mysticism and memories combined with food and drink entice the souls of the departed to join the party. Mango Loco is a heavenly blend of exotic juices certain to attract even the most stubborn spirit. Crazy good taste with just enough of that Monster magic to keep party going for days... Caffeine from all sources: 76mg per 8 fl. oz. serving (152mg per can)
Ingredients
Carbonated Water; Sugar; Mango Juice from Concentrate; Guava Puree; White Grape Juice Concentrate; Glucose; Apple Juice Concentrate; Citric Acid; Taurine; Pineapple Syrup; Pineapple Juice Concentrate; Potassium Citrate; Natural Flavors; Lemon Pulp; Apricot Puree; Orange Juice Concentrate; Peach Puree; Sodium Citrate; Potassium Sorbate (Preservative); Caffeine; Niacinamide (Vit. B3); L-Carnitine L-Tartrate; Sucralose; Xanthan Gum; Sodium Alginate; Passionfruit Juice Concentrate; Inositol; Gum Arabic; Sodium Benzoate (Preservative); Pyridoxine Hydrochloride (Vit. B6); Riboflavin (Vit. B2); Ester Gum; Salt; Red #40; Cyanocobalamin (Vit. B12);
Nutrition Facts
servings pr container
Product Number: 00070847029014
Sale Information
On Sale!
Sales price valid from 9/30/2022 until 10/6/2022
Description
Monster Energy Mango Loco Juice Energy Drink, 16 fl oz Monster Energy blend: Glucose, taurine, caffeine, L-carnitine, inositol On the eve of October 31st each year friends and family gather to celebrate ''Dia de los Muertos''. Marigolds, mysticism and memories combined with food and drink entice the souls of the departed to join the party. Mango Loco is a heavenly blend of exotic juices certain to attract even the most stubborn spirit. Crazy good taste with just enough of that Monster magic to keep party going for days... Caffeine from all sources: 76mg per 8 fl. oz. serving (152mg per can)
Product Number: 00070847029014
Ingredients
Carbonated Water; Sugar; Mango Juice from Concentrate; Guava Puree; White Grape Juice Concentrate; Glucose; Apple Juice Concentrate; Citric Acid; Taurine; Pineapple Syrup; Pineapple Juice Concentrate; Potassium Citrate; Natural Flavors; Lemon Pulp; Apricot Puree; Orange Juice Concentrate; Peach Puree; Sodium Citrate; Potassium Sorbate (Preservative); Caffeine; Niacinamide (Vit. B3); L-Carnitine L-Tartrate; Sucralose; Xanthan Gum; Sodium Alginate; Passionfruit Juice Concentrate; Inositol; Gum Arabic; Sodium Benzoate (Preservative); Pyridoxine Hydrochloride (Vit. B6); Riboflavin (Vit. B2); Ester Gum; Salt; Red #40; Cyanocobalamin (Vit. B12);
Nutrition Facts
servings pr container
Product Number: 00070847029014