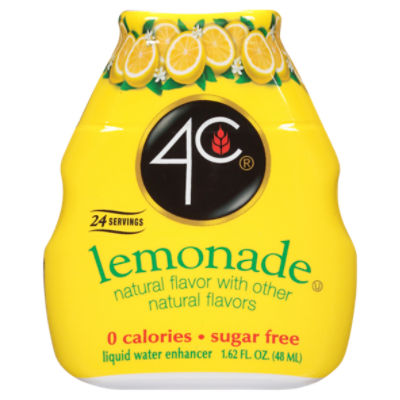 4C Lemonade Liquid Water Enhancer, 1.62 fl oz
$3.79
was $4.49
$2.34/fl oz
Sale Information
On Sale!
Sales price valid from 1/29/2023 until 2/4/2023
Description
4C Lemonade Liquid Water Enhancer, 1.62 fl oz sugar free, 24 servings in each easy-to-squeeze bottle, designed to "squeeze'' only when you press to make sure there's no leaking. Kosher
Ingredients
Water; Citric Acid; Natural Lemon Flavor with other Natural Flavors; Propylene Glycol; Acesulfame Potassium; Sucralose; Magnesium Oxide; Natural Lemon Juice Powder; Potassium Sorbate (Preservative); Yellow 5;
Nutrition Facts
24 servings pr container
Product Number: 00041387005325
Sale Information
On Sale!
Sales price valid from 1/29/2023 until 2/4/2023
Description
4C Lemonade Liquid Water Enhancer, 1.62 fl oz sugar free, 24 servings in each easy-to-squeeze bottle, designed to "squeeze'' only when you press to make sure there's no leaking. Kosher
Product Number: 00041387005325
Ingredients
Water; Citric Acid; Natural Lemon Flavor with other Natural Flavors; Propylene Glycol; Acesulfame Potassium; Sucralose; Magnesium Oxide; Natural Lemon Juice Powder; Potassium Sorbate (Preservative); Yellow 5;
Nutrition Facts
24 servings pr container
Product Number: 00041387005325