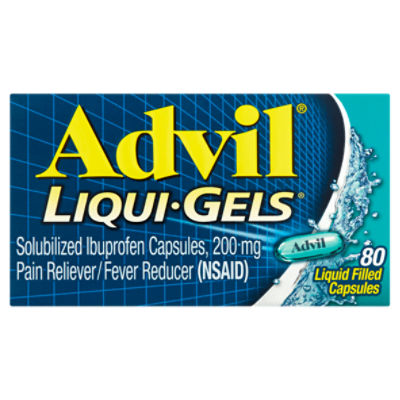 Advil Liqui-Gels Solubilized Ibuprofen 200 mg, Liquid Filled Capsule, 80 Each
$11.49
was $12.99
$0.14 each
Sale Information
On Sale!
Sales price valid from 11/27/2022 until 12/3/2022
Description
Advil Liqui-Gels Solubilized Ibuprofen Liquid Filled Capsules, 200 mg, 80 count Pain Reliever/Fever Reducer (NSAID) Uses ■ temporarily relieves minor aches and pains due to: ■ headache ■ toothache ■ backache ■ menstrual cramps ■ the common cold ■ muscular aches ■ minor pain of arthritis ■ temporarily reduces fever Drug Facts Active ingredient (in each capsule) - Purpose Solubilized ibuprofen equal to 200 mg ibuprofen (NSAID)* (present as the free acid and potassium salt) - Pain reliever/Fever reducer *nonsteroidal anti-inflammatory drug
Ingredients
Inactive Ingredients: FD&C Green No. 3, Gelatin, Lecithin (Soybean), Medium-Chain Triglycerides, Pharmaceutical Ink, Polyethylene Glycol, Potassium Hydroxide, Purified Water, Sorbitol Sorbitan Solution;
Product Number: 00305730169400
Sale Information
On Sale!
Sales price valid from 11/27/2022 until 12/3/2022
Description
Advil Liqui-Gels Solubilized Ibuprofen Liquid Filled Capsules, 200 mg, 80 count Pain Reliever/Fever Reducer (NSAID) Uses ■ temporarily relieves minor aches and pains due to: ■ headache ■ toothache ■ backache ■ menstrual cramps ■ the common cold ■ muscular aches ■ minor pain of arthritis ■ temporarily reduces fever Drug Facts Active ingredient (in each capsule) - Purpose Solubilized ibuprofen equal to 200 mg ibuprofen (NSAID)* (present as the free acid and potassium salt) - Pain reliever/Fever reducer *nonsteroidal anti-inflammatory drug
Product Number: 00305730169400
Ingredients
Inactive Ingredients: FD&C Green No. 3, Gelatin, Lecithin (Soybean), Medium-Chain Triglycerides, Pharmaceutical Ink, Polyethylene Glycol, Potassium Hydroxide, Purified Water, Sorbitol Sorbitan Solution;
Product Number: 00305730169400