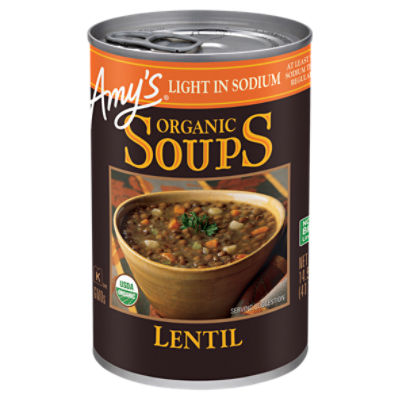 Amy's Organic Lentil Soups, 14.5 oz
Sale Information
On Sale!
Sale price valid from 2/3/2023 until 2/9/2023
Description
Amy's Organic Lentil Soups, 14.5 oz Amy loves this satisfying lentil soup made from her mom's favorite recipe. It has a rich, delicious flavor, and the organic lentils are a good source of protein and fiber. This Light in Sodium soup has all the flavor but contains at least 50% less sodium than our regular soup. Contains 450Mg of Sodium Compared to 1,050Mg per Can in Amy's Regular Lentil Soup
Ingredients
Filtered Water; Organic Green Lentils; Organic Celery; Organic Carrots; Organic Onions; Organic Potatoes; Organic Extra Virgin Olive Oil; Sea Salt; Bay Leaves;
Nutrition Facts
servings pr container
Product Number: 00042272005833
Sale Information
On Sale!
Sale price valid from 2/3/2023 until 2/9/2023
Description
Amy's Organic Lentil Soups, 14.5 oz Amy loves this satisfying lentil soup made from her mom's favorite recipe. It has a rich, delicious flavor, and the organic lentils are a good source of protein and fiber. This Light in Sodium soup has all the flavor but contains at least 50% less sodium than our regular soup. Contains 450Mg of Sodium Compared to 1,050Mg per Can in Amy's Regular Lentil Soup
Product Number: 00042272005833
Ingredients
Filtered Water; Organic Green Lentils; Organic Celery; Organic Carrots; Organic Onions; Organic Potatoes; Organic Extra Virgin Olive Oil; Sea Salt; Bay Leaves;
Nutrition Facts
servings pr container
Product Number: 00042272005833