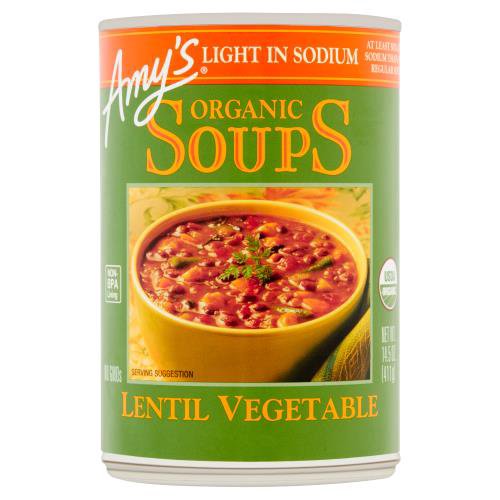 Amy's Organic Lentil Vegetable Soups, 14.5 oz
Sale Information
On Sale!
Sales price valid from 1/27/2023 until 2/2/2023
Description
Amy's Organic Lentil Vegetable Soups, 14.5 oz This delicious soup is full of vegetables, including organic green beans, tomatoes and spinach in a hearty, flavorful lentil base. This light in sodium soup has all the flavor but contains at least 50% less sodium than our regular soup. Contains 540Mg of Sodium Compared to 1,200Mg per Can in Amy's Regular Lentil Vegetable Soup
Ingredients
Filtered Water; Organic Onions; Organic Green Lentils; Organic Carrots; Organic Celery; Organic Potatoes; Organic Diced Tomatoes; Organic Spinach; Organic Green Beans; Organic Extra Virgin Olive Oil; Organic Garlic; Sea Salt; Organic Balsamic Vinegar (Organic Wine Vinegar, Organic Grape Must); Organic Spices; Organic Black Pepper;
Nutrition Facts
2 servings pr container
Product Number: 00042272005826
Sale Information
On Sale!
Sales price valid from 1/27/2023 until 2/2/2023
Description
Amy's Organic Lentil Vegetable Soups, 14.5 oz This delicious soup is full of vegetables, including organic green beans, tomatoes and spinach in a hearty, flavorful lentil base. This light in sodium soup has all the flavor but contains at least 50% less sodium than our regular soup. Contains 540Mg of Sodium Compared to 1,200Mg per Can in Amy's Regular Lentil Vegetable Soup
Product Number: 00042272005826
Ingredients
Filtered Water; Organic Onions; Organic Green Lentils; Organic Carrots; Organic Celery; Organic Potatoes; Organic Diced Tomatoes; Organic Spinach; Organic Green Beans; Organic Extra Virgin Olive Oil; Organic Garlic; Sea Salt; Organic Balsamic Vinegar (Organic Wine Vinegar, Organic Grape Must); Organic Spices; Organic Black Pepper;
Nutrition Facts
2 servings pr container
Product Number: 00042272005826