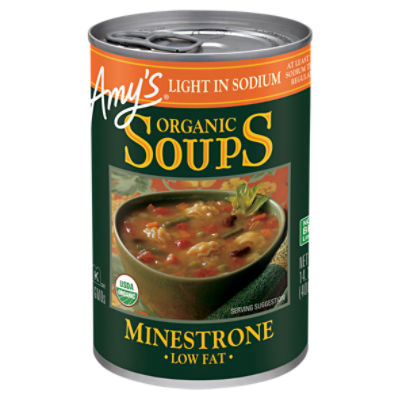 Amy's Organic Minestrone Soup, 14.1 oz
Sale Information
On Sale!
Sales price valid from 1/29/2023 until 2/4/2023
Description
Amy's Organic Minestrone Soup, 14.1 oz Amy's Minestrone contains a blend of organic vegetables, beans and pasta in a tomato broth. This will remind you of mom's homemade soup. Contains 440mg of Sodium Compared to 1,120mg per Can in Amy's Regular Minestrone Soup
Ingredients
Filtered Water; Organic Diced Tomatoes; Organic Onions; Organic Carrots; Organic Kidney Beans; Organic Potatoes; Organic Celery; Organic Green Beans; Organic Peas; Organic Pasta (Organic Durum Wheat Semolina Flour, Water); Organic Leeks; Organic High Oleic Safflower and/or Sunflower Oil; Organic Spices; Organic Basil; Sea Salt; Organic Garlic; Bay Leaves; Organic Black Pepper;
Nutrition Facts
servings pr container
Product Number: 00042272005857
Sale Information
On Sale!
Sales price valid from 1/29/2023 until 2/4/2023
Description
Amy's Organic Minestrone Soup, 14.1 oz Amy's Minestrone contains a blend of organic vegetables, beans and pasta in a tomato broth. This will remind you of mom's homemade soup. Contains 440mg of Sodium Compared to 1,120mg per Can in Amy's Regular Minestrone Soup
Product Number: 00042272005857
Ingredients
Filtered Water; Organic Diced Tomatoes; Organic Onions; Organic Carrots; Organic Kidney Beans; Organic Potatoes; Organic Celery; Organic Green Beans; Organic Peas; Organic Pasta (Organic Durum Wheat Semolina Flour, Water); Organic Leeks; Organic High Oleic Safflower and/or Sunflower Oil; Organic Spices; Organic Basil; Sea Salt; Organic Garlic; Bay Leaves; Organic Black Pepper;
Nutrition Facts
servings pr container
Product Number: 00042272005857