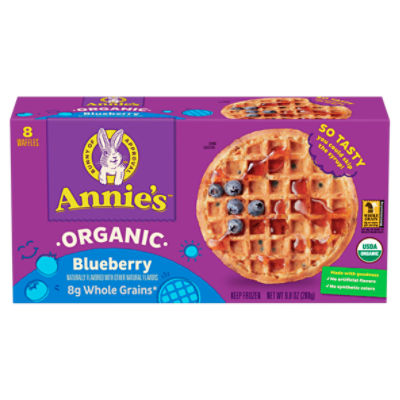 Annie's Organic Blueberry Waffles, 8 count, 9.8 oz
Sale Information
On Sale!
Sale price valid from 2/3/2023 until 2/9/2023
Description
Annie's Organic Blueberry Waffles, 8 count, 9.8 oz 8g whole grains* *Per serving. At least 48g of whole grain recommended daily. Made with goodness ✓ No artificial flavors ✓ No synthetic colors
Ingredients
Water; Organic Wheat Flour; Organic Whole Oat Flour; Organic Blueberry Bits (Organic Tapioca Dextrose, Organic Powdered Sugar, Organic Corn Flour, Organic Palm Oil, Organic Natural Flavor, Organic Fruit and Vegetable Juice Color [Carrot, Apple, and Black Currant], Organic Tapioca Starch, Organic Blueberry Powder); Organic Whole Grain Wheat Flour; Organic Sunflower Oil; Organic Natural Flavor; Leavening (Sodium Acid Pyrophosphate, Baking Soda); Organic Cane Sugar; Organic Sunflower Lecithin; Organic Nonfat Milk; Organic Whole Egg; Salt;
Product Number: 00013562122349
Sale Information
On Sale!
Sale price valid from 2/3/2023 until 2/9/2023
Description
Annie's Organic Blueberry Waffles, 8 count, 9.8 oz 8g whole grains* *Per serving. At least 48g of whole grain recommended daily. Made with goodness ✓ No artificial flavors ✓ No synthetic colors
Product Number: 00013562122349
Ingredients
Water; Organic Wheat Flour; Organic Whole Oat Flour; Organic Blueberry Bits (Organic Tapioca Dextrose, Organic Powdered Sugar, Organic Corn Flour, Organic Palm Oil, Organic Natural Flavor, Organic Fruit and Vegetable Juice Color [Carrot, Apple, and Black Currant], Organic Tapioca Starch, Organic Blueberry Powder); Organic Whole Grain Wheat Flour; Organic Sunflower Oil; Organic Natural Flavor; Leavening (Sodium Acid Pyrophosphate, Baking Soda); Organic Cane Sugar; Organic Sunflower Lecithin; Organic Nonfat Milk; Organic Whole Egg; Salt;
Product Number: 00013562122349