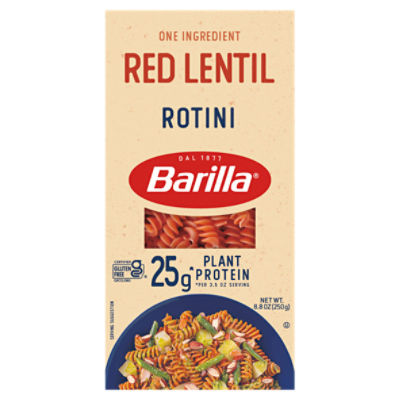 Barilla Red Lentil Rotini, Pasta, 8.8 Ounce
Sale Information
On Sale!
Sales price valid from 12/2/2022 until 12/8/2022
Description
Barilla Red Lentil Rotini Pasta, 8.8 oz All Legumes. Al Dente. All Great Taste. Made entirely from red lentils, this pasta is deliciously wholesome, plant-based goodness. 1 simple ingredient, 13g of protein, GF naturally, no GMO ingredients Build-Your-Own Pasta Recipe in Just 4 Easy Steps: Select your favorite ingredients for dozens of dishes under 500 calories. To Calculate Net Carbs Per 2 oz (56g) Serving 34g Total Carbs 6g fiber 28 Net Carbs
Ingredients
Red Lentil Flour;
Nutrition Facts
45 servings pr container
Product Number: 00076808008470
Sale Information
On Sale!
Sales price valid from 12/2/2022 until 12/8/2022
Description
Barilla Red Lentil Rotini Pasta, 8.8 oz All Legumes. Al Dente. All Great Taste. Made entirely from red lentils, this pasta is deliciously wholesome, plant-based goodness. 1 simple ingredient, 13g of protein, GF naturally, no GMO ingredients Build-Your-Own Pasta Recipe in Just 4 Easy Steps: Select your favorite ingredients for dozens of dishes under 500 calories. To Calculate Net Carbs Per 2 oz (56g) Serving 34g Total Carbs 6g fiber 28 Net Carbs
Product Number: 00076808008470
Ingredients
Red Lentil Flour;
Nutrition Facts
45 servings pr container
Product Number: 00076808008470