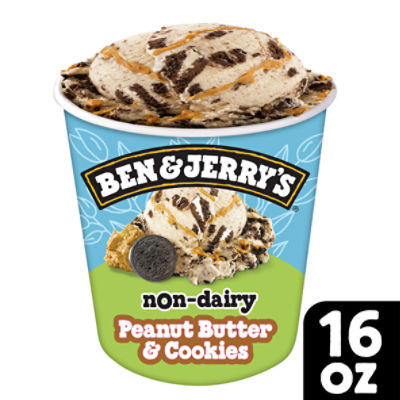 Ben & Jerry's Non-Dairy Peanut Butter & Cookies Frozen Dessert 16 oz
Sale Information
On Sale!
Sale price valid from 2/3/2023 until 2/9/2023
Description
Ben & Jerry's Non-Dairy Peanut Butter & Cookies Frozen Dessert 16 oz Ben & Jerry's Vanilla with chocolate sandwich cookies and crunchy peanut butter swirls. No, you're not dreaming…it really is Non-Dairy and Certified Vegan! When our fans asked us to offer dairy-free options, we said why not? So, we got busy in the kitchen, tasting, testing, and tweaking. Offering a vegan frozen dessert we could be proud to put our name on was no small task. It took nearly three years to perfect the recipe but dig in, and we think you'll agree that this frozen dessert is ridiculously delicious. In fact, this Peanut Butter & Cookies Non-Dairy frozen dessert was so good that some folks around our Vermont office couldn't believe it was made with almond milk. Of course, being the overachievers that we are, going dairy-free was not enough, so we also made it 100% certified vegan ice cream too. It's as good as it gets, all the while remaining boldly loaded with the chunks and swirls you'd expect from Ben & Jerry's. The best Non Dairy ice cream is nothing without great ingredients. That's why Ben & Jerry's is committed to crafting its products in the most responsible way possible. P. B & Cookies is a gmo free ice cream and uses Fairtrade certified cocoa, and vanilla. It's all wrapped up in responsibly sourced packaging to have as little impact on our planet as possible. Vanilla with chocolate sandwich cookies & crunchy peanut butter swirls
Ingredients
Almond Milk (Water, Almonds), Liquid Sugar (Sugar, Water), Peanuts, Coconut Oil, Corn Syrup Solids, Sugar, Wheat Flour, Peanut Oil, Palm And Palm Kernel Oil, Cocoa (Processed With Alkali), Pea Protein, Vanilla Extract, Sunflower Lecithin, Salt, Baking Soda, Natural Flavor (Coconut), Soy Lecithin, Guar Gum, Locust Bean Gum.;
Nutrition Facts
servings pr container
Product Number: 00076840580767
Sale Information
On Sale!
Sale price valid from 2/3/2023 until 2/9/2023
Description
Ben & Jerry's Non-Dairy Peanut Butter & Cookies Frozen Dessert 16 oz Ben & Jerry's Vanilla with chocolate sandwich cookies and crunchy peanut butter swirls. No, you're not dreaming…it really is Non-Dairy and Certified Vegan! When our fans asked us to offer dairy-free options, we said why not? So, we got busy in the kitchen, tasting, testing, and tweaking. Offering a vegan frozen dessert we could be proud to put our name on was no small task. It took nearly three years to perfect the recipe but dig in, and we think you'll agree that this frozen dessert is ridiculously delicious. In fact, this Peanut Butter & Cookies Non-Dairy frozen dessert was so good that some folks around our Vermont office couldn't believe it was made with almond milk. Of course, being the overachievers that we are, going dairy-free was not enough, so we also made it 100% certified vegan ice cream too. It's as good as it gets, all the while remaining boldly loaded with the chunks and swirls you'd expect from Ben & Jerry's. The best Non Dairy ice cream is nothing without great ingredients. That's why Ben & Jerry's is committed to crafting its products in the most responsible way possible. P. B & Cookies is a gmo free ice cream and uses Fairtrade certified cocoa, and vanilla. It's all wrapped up in responsibly sourced packaging to have as little impact on our planet as possible. Vanilla with chocolate sandwich cookies & crunchy peanut butter swirls
Product Number: 00076840580767
Ingredients
Almond Milk (Water, Almonds), Liquid Sugar (Sugar, Water), Peanuts, Coconut Oil, Corn Syrup Solids, Sugar, Wheat Flour, Peanut Oil, Palm And Palm Kernel Oil, Cocoa (Processed With Alkali), Pea Protein, Vanilla Extract, Sunflower Lecithin, Salt, Baking Soda, Natural Flavor (Coconut), Soy Lecithin, Guar Gum, Locust Bean Gum.;
Nutrition Facts
servings pr container
Product Number: 00076840580767