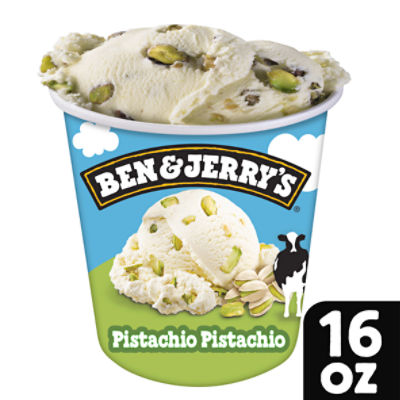 Ben & Jerry's Ice Cream Pistachio Pistachio 16 oz
Sale Information
On Sale!
Sales price valid from 1/29/2023 until 2/4/2023
Description
Ben & Jerry's Ice Cream Pistachio Pistachio 16 oz Ben & Jerry's Rich and creamy pistachio ice cream loaded to the brim with chunks of lightly roasted whole pistachios. The name alone shows how much we love pistachios. But don't just take our word for it - let the flavor speak for itself! We'll admit it, we're almost as nuts for pistachios as we are for ice cream. So much so that this Ben & Jerry's ice cream recipe dates way back to 1988. It's been a hit ever since. There's just something unmistakably addictive about the subtle play of salty sweetness in each mouth-watering scoop. Pistachio Pistachio…simple pleasures, indeed! Of course, for Ben & Jerry's, it's done well, or not done at all, and that's a big part of what separates this flavor from other pistachio ice creams in the freezer aisle. You see, we refuse to use artificial flavors or colors. Pistachio Pistachio keeps it real and that's what makes it hands-down the best one out there. The goodness doesn't end there, with Ben & Jerry's committed to crafting the best frozen desserts in the most sustainable way possible. We work with Fairtrade certified producers for the sugar in this flavor; and all our ice cream is made with non-GMO sourced ingredients and cage-free eggs. Plus this ice cream pint's packaging is responsibly sourced. Pistachio Ice Cream with Lightly Roasted Pistachios
Ingredients
Cream; Skim Milk; Liquid Sugar (Sugar, Water); Water; Pistachios; Egg Yolks; Sugar; Coconut Oil; Guar Gum; Salt; Natural Flavors; Carrageenan;
Nutrition Facts
servings pr container
Product Number: 00076840101184
Sale Information
On Sale!
Sales price valid from 1/29/2023 until 2/4/2023
Description
Ben & Jerry's Ice Cream Pistachio Pistachio 16 oz Ben & Jerry's Rich and creamy pistachio ice cream loaded to the brim with chunks of lightly roasted whole pistachios. The name alone shows how much we love pistachios. But don't just take our word for it - let the flavor speak for itself! We'll admit it, we're almost as nuts for pistachios as we are for ice cream. So much so that this Ben & Jerry's ice cream recipe dates way back to 1988. It's been a hit ever since. There's just something unmistakably addictive about the subtle play of salty sweetness in each mouth-watering scoop. Pistachio Pistachio…simple pleasures, indeed! Of course, for Ben & Jerry's, it's done well, or not done at all, and that's a big part of what separates this flavor from other pistachio ice creams in the freezer aisle. You see, we refuse to use artificial flavors or colors. Pistachio Pistachio keeps it real and that's what makes it hands-down the best one out there. The goodness doesn't end there, with Ben & Jerry's committed to crafting the best frozen desserts in the most sustainable way possible. We work with Fairtrade certified producers for the sugar in this flavor; and all our ice cream is made with non-GMO sourced ingredients and cage-free eggs. Plus this ice cream pint's packaging is responsibly sourced. Pistachio Ice Cream with Lightly Roasted Pistachios
Product Number: 00076840101184
Ingredients
Cream; Skim Milk; Liquid Sugar (Sugar, Water); Water; Pistachios; Egg Yolks; Sugar; Coconut Oil; Guar Gum; Salt; Natural Flavors; Carrageenan;
Nutrition Facts
servings pr container
Product Number: 00076840101184