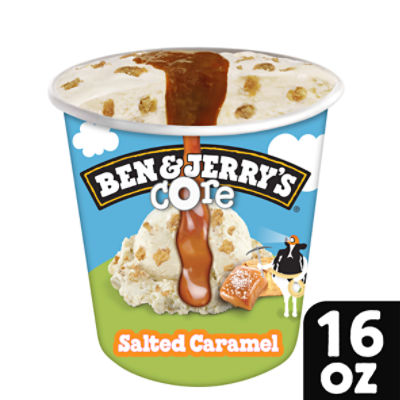 Ben & Jerry's Ice Cream Salted Caramel Core 16 oz
Sale Information
On Sale!
Sale price valid from 2/3/2023 until 2/9/2023
Description
Ben & Jerry's Ice Cream Salted Caramel Core 16 oz Ben & Jerry's Sweet cream ice cream with chunks of blonde brownies and a salted caramel core. Brace yourself, folks…this flavor is out-of-this-world euphoric. One of our most decadent Cores! Grab a flashlight and hang on tight as you journey, spoon in hand, to the core of what makes Ben & Jerry's homemade ice cream famous. The gooey, crunchy, melt-in-your-mouth deliciousness of our Salted Caramel Core is all about adventure. Dig straight down through the gooey center of salted caramel, or work the perimeter, devouring the chunks of blonde brownies. Either way, you'll be in total control of your ice cream destiny. What's even better is that the brownies in this all-out amazing flavor come fresh from Greyston Bakery, located in Yonkers, New York. Since 1982, this social enterprise has been paving the way to success for many of the city's low-income residents through employment and education. Like all of Ben & Jerry's ice cream, Salted Caramel Core strives to not just taste delicious, but do good, by featuring Non-GMO sourced ingredients, eggs from cage-free hens, and Fairtrade certified sugar and vanilla. No artificial colors or flavors make this a frozen dessert your taste buds can trust. Like every ice cream pint we produce, it's also wrapped in responsibly sourced packaging, so you can feel good about what's in your freezer. Sweet Cream Ice Cream with Blonde Brownies & a Salted Caramel Core
Ingredients
Cream; Skim Milk; Liquid Sugar (Sugar, Water); Water; Milk; Brown Sugar; Wheat Flour; Egg Yolks; Sugar; Corn Syrup; Eggs; Butter (Cream, Salt); Butteroil; Pectin; Sea Salt; Soybean Oil; Vanilla Extract; Guar Gum; Soy Lecithin; Baking Powder (Sodium Acid Pyrophosphate, Sodium Bicarbonate, Corn Starch, Monocalcium Phosphate); Baking Soda; Salt; Carrageenan; Lactase;
Nutrition Facts
servings pr container
Product Number: 00076840363957
Sale Information
On Sale!
Sale price valid from 2/3/2023 until 2/9/2023
Description
Ben & Jerry's Ice Cream Salted Caramel Core 16 oz Ben & Jerry's Sweet cream ice cream with chunks of blonde brownies and a salted caramel core. Brace yourself, folks…this flavor is out-of-this-world euphoric. One of our most decadent Cores! Grab a flashlight and hang on tight as you journey, spoon in hand, to the core of what makes Ben & Jerry's homemade ice cream famous. The gooey, crunchy, melt-in-your-mouth deliciousness of our Salted Caramel Core is all about adventure. Dig straight down through the gooey center of salted caramel, or work the perimeter, devouring the chunks of blonde brownies. Either way, you'll be in total control of your ice cream destiny. What's even better is that the brownies in this all-out amazing flavor come fresh from Greyston Bakery, located in Yonkers, New York. Since 1982, this social enterprise has been paving the way to success for many of the city's low-income residents through employment and education. Like all of Ben & Jerry's ice cream, Salted Caramel Core strives to not just taste delicious, but do good, by featuring Non-GMO sourced ingredients, eggs from cage-free hens, and Fairtrade certified sugar and vanilla. No artificial colors or flavors make this a frozen dessert your taste buds can trust. Like every ice cream pint we produce, it's also wrapped in responsibly sourced packaging, so you can feel good about what's in your freezer. Sweet Cream Ice Cream with Blonde Brownies & a Salted Caramel Core
Product Number: 00076840363957
Ingredients
Cream; Skim Milk; Liquid Sugar (Sugar, Water); Water; Milk; Brown Sugar; Wheat Flour; Egg Yolks; Sugar; Corn Syrup; Eggs; Butter (Cream, Salt); Butteroil; Pectin; Sea Salt; Soybean Oil; Vanilla Extract; Guar Gum; Soy Lecithin; Baking Powder (Sodium Acid Pyrophosphate, Sodium Bicarbonate, Corn Starch, Monocalcium Phosphate); Baking Soda; Salt; Carrageenan; Lactase;
Nutrition Facts
servings pr container
Product Number: 00076840363957