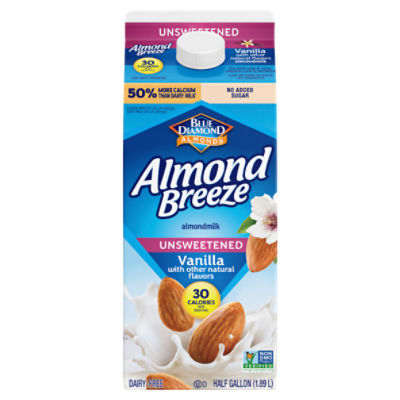 Blue Diamond Almonds Almond Breeze Unsweetened Vanilla Almondmilk, half gallon
Sale Information
On Sale!
Sale price valid from 3/24/2023 until 3/30/2023
Description
Blue Diamond Almonds Almond Breeze Unsweetened Vanilla Almondmilk, half gallon Almond Breeze non-dairy almondmilk is delicious in everything, from cereals and smoothies to cooking and baking. Browse our variety of refrigerated and shelf stable almondmilk, including sweetened and unsweetened, vanilla, chocolate, our coconut and banana almondmilk blends, as well as almondmilk creamers and almondmilk yogurts. The best almonds make the best almondmilk
Ingredients
Almondmilk (Filtered Water, Almonds); Calcium Carbonate; Natural Flavors; Sea Salt; Potassium Citrate; Sunflower Lecithin; Gellan Gum; Vitamin A Palmitate; Vitamin D2; D-Alpha-Tocopherol (Natural Vitamine);
Nutrition Facts
8 servings pr container
Product Number: 00041570056189
Sale Information
On Sale!
Sale price valid from 3/24/2023 until 3/30/2023
Description
Blue Diamond Almonds Almond Breeze Unsweetened Vanilla Almondmilk, half gallon Almond Breeze non-dairy almondmilk is delicious in everything, from cereals and smoothies to cooking and baking. Browse our variety of refrigerated and shelf stable almondmilk, including sweetened and unsweetened, vanilla, chocolate, our coconut and banana almondmilk blends, as well as almondmilk creamers and almondmilk yogurts. The best almonds make the best almondmilk
Product Number: 00041570056189
Ingredients
Almondmilk (Filtered Water, Almonds); Calcium Carbonate; Natural Flavors; Sea Salt; Potassium Citrate; Sunflower Lecithin; Gellan Gum; Vitamin A Palmitate; Vitamin D2; D-Alpha-Tocopherol (Natural Vitamine);
Nutrition Facts
8 servings pr container
Product Number: 00041570056189