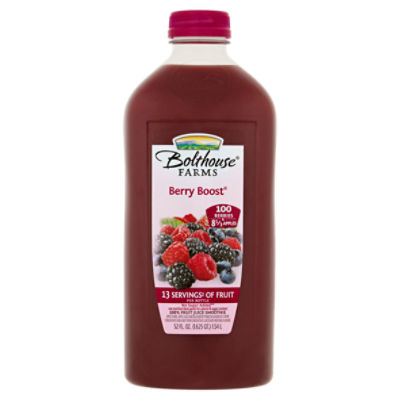 Bolthouse Farms Berry Boost 100% Fruit Juice Smoothie, 52 fl oz
$6.99
was $9.99
$0.13/fl oz
Sale Information
On Sale!
Sales price valid from 1/29/2023 until 2/4/2023
Description
Bolthouse Farms Berry Boost 100% Fruit Juice Smoothie, 52 fl oz Apple Puree, Apple Juice and Blackberry Puree in a Blend of 2 from Concentrate and 6 Not from Concentrate Juices with Natural Flavors 13 servingsǂ of fruit per bottle ǂOne serving equals 1/2 cup of juice. Daily recommendation: 4 servings of a variety of fruit, including whole fruits, for a 2,000 calorie diet (MyPlate). No sugar added** **Not a low calorie food Feel good about what's in this bottle which includes the juice of†: 8 1/3 apples, 100 berries, 1 banana †Not an exhaustive list
Ingredients
Apple Puree from Concentrate (Water, Apple Puree Concentrate); Apple Juice from Concentrate (Water, Apple Juice Concentrate); Blackberry Puree; Banana Puree; Raspberry Puree; Strawberry Puree; Blueberry Puree; Lemon Juice; Natural Flavor;
Nutrition Facts
servings pr container
Product Number: 00071464280802
Sale Information
On Sale!
Sales price valid from 1/29/2023 until 2/4/2023
Description
Bolthouse Farms Berry Boost 100% Fruit Juice Smoothie, 52 fl oz Apple Puree, Apple Juice and Blackberry Puree in a Blend of 2 from Concentrate and 6 Not from Concentrate Juices with Natural Flavors 13 servingsǂ of fruit per bottle ǂOne serving equals 1/2 cup of juice. Daily recommendation: 4 servings of a variety of fruit, including whole fruits, for a 2,000 calorie diet (MyPlate). No sugar added** **Not a low calorie food Feel good about what's in this bottle which includes the juice of†: 8 1/3 apples, 100 berries, 1 banana †Not an exhaustive list
Product Number: 00071464280802
Ingredients
Apple Puree from Concentrate (Water, Apple Puree Concentrate); Apple Juice from Concentrate (Water, Apple Juice Concentrate); Blackberry Puree; Banana Puree; Raspberry Puree; Strawberry Puree; Blueberry Puree; Lemon Juice; Natural Flavor;
Nutrition Facts
servings pr container
Product Number: 00071464280802