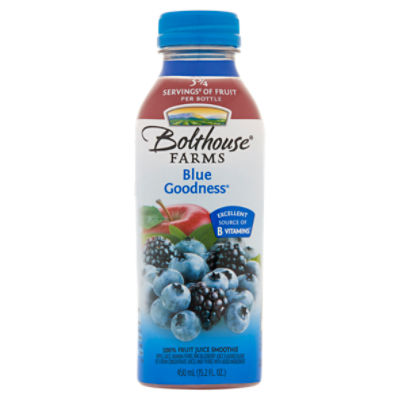 Bolthouse Farms Blue Goodness 100% Fruit Juice Smoothie, 15.2 fl oz
$2.50
was $3.99
$0.16/fl oz
Sale Information
On Sale!
Sale price valid from 2/3/2023 until 2/9/2023
Description
Bolthouse Farms Blue Goodness 100% Fruit Juice Smoothie, 15.2 fl oz Apple Juice, Banana Puree and Blueberry Juice Flavored Blend of 5 from Concentrate Juices and 1 Puree with Added Ingredients 3 3/4 servings¥ of fruit per bottle ¥One serving equals 1/2 cup of juice. Daily recommendation: 4 servings of a variety of fruit, including whole fruits, for a 2,000 calorie diet (MyPlate). Excellent source of B vitamins† † From fruit and added nutrients No sugar added** **Not a low calorie food Feel good about what's in this bottle which includes the juice of‡: 2 1/4 apples 2/3 banana 10 blueberries 10 blackberries ‡ Not an exhaustive list
Ingredients
Apple Juice from Concentrate (Water, Apple Juice Concentrate); Banana Puree; Blueberry Juice from Concentrate (Water, Blueberry Juice Concentrate); Lemon Juice from Concentrate (Water, Lemon Juice Concentrate); Dextrin (Soluble Fiber); Black Currant Juice from Concentrate (Water, Black Currant Juice Concentrate); Blackberry Juice from Concentrate (Water, Blackberry Juice Concentrate); Contains 1% or less: Natural Flavors, (Chicory) Root Fiber, Purple Carrot Concentrate (Color), Xanthan Gum, Vitamin C (Ascorbic Acid), Vitamin E (d-Alpha Tocopheryl Acetate), Vitamin B3 (Niacin), Vitamin B5 (Pantothenic Acid), Vitamin B9 (Folic Acid), Vitamin B6 (Pyridoxine HCL), Vitamin B1 (Thiamin), Vitamin B2 (Riboflavin), Vitamin B7 (Biotin), Vitamin B12 (Cyanocobalamin);
Nutrition Facts
2 servings pr container
serving size
8 fluidOunceUS
Product Number: 00071464301507
Sale Information
On Sale!
Sale price valid from 2/3/2023 until 2/9/2023
Description
Bolthouse Farms Blue Goodness 100% Fruit Juice Smoothie, 15.2 fl oz Apple Juice, Banana Puree and Blueberry Juice Flavored Blend of 5 from Concentrate Juices and 1 Puree with Added Ingredients 3 3/4 servings¥ of fruit per bottle ¥One serving equals 1/2 cup of juice. Daily recommendation: 4 servings of a variety of fruit, including whole fruits, for a 2,000 calorie diet (MyPlate). Excellent source of B vitamins† † From fruit and added nutrients No sugar added** **Not a low calorie food Feel good about what's in this bottle which includes the juice of‡: 2 1/4 apples 2/3 banana 10 blueberries 10 blackberries ‡ Not an exhaustive list
Product Number: 00071464301507
Ingredients
Apple Juice from Concentrate (Water, Apple Juice Concentrate); Banana Puree; Blueberry Juice from Concentrate (Water, Blueberry Juice Concentrate); Lemon Juice from Concentrate (Water, Lemon Juice Concentrate); Dextrin (Soluble Fiber); Black Currant Juice from Concentrate (Water, Black Currant Juice Concentrate); Blackberry Juice from Concentrate (Water, Blackberry Juice Concentrate); Contains 1% or less: Natural Flavors, (Chicory) Root Fiber, Purple Carrot Concentrate (Color), Xanthan Gum, Vitamin C (Ascorbic Acid), Vitamin E (d-Alpha Tocopheryl Acetate), Vitamin B3 (Niacin), Vitamin B5 (Pantothenic Acid), Vitamin B9 (Folic Acid), Vitamin B6 (Pyridoxine HCL), Vitamin B1 (Thiamin), Vitamin B2 (Riboflavin), Vitamin B7 (Biotin), Vitamin B12 (Cyanocobalamin);
Nutrition Facts
2 servings pr container
serving size
8 fluidOunceUS
Product Number: 00071464301507