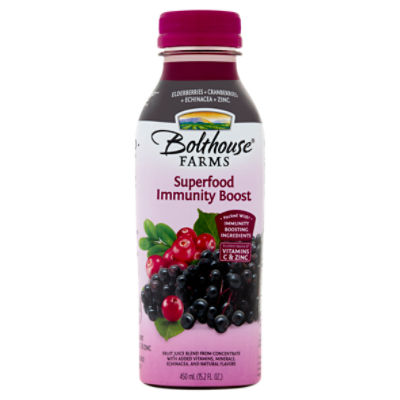 Bolthouse Farms Superfood Immunity Boost Fruit, Juice, 15.2 Fluid ounce
$2.99
was $3.49
$0.20/fl oz
Sale Information
On Sale!
Sales price valid from 11/27/2022 until 12/3/2022
Description
Bolthouse Farms Superfood Immunity Boost Fruit Juice, 15.2 fl oz Fruit Juice Blend from Concentrate with Added Vitamins, Minerals, Echinacea, and Natural Flavors Packed with† Immunity Boosting Ingredients Excellent source of† Vitamins C & Zinc Provides an Excellent Source† of Vitamins C, E & Zinc With a Good Source† of Vitamin D †From Fruit and Added Ingredients Feel Good About what's in this Bottle We have carefully selected top immunity boosting ingredients to deliver an unmatched combination of flavor and nutrition. Which Includes the Juice of‡: Over 400 Elderberries Over 50 Cranberries Plus 100mg Echinacea ‡One Serving Equals 4 Cup of Juice. Daily Recommendation: 4 Servings of a Variety of Fruit, Including Whole Fruits, for a 2,000 Calorie Diet (Myplate). ‡Not an Exhaustive List No Sugar Added** **Not a Low Calorie Food
Ingredients
Elderberry Juice from Concentrate (Water, Elderberry Juice Concentrate and Powder); Cranberry Juice from Concentrate (Water, Cranberry Juice Concentrate); Apple Juice from Concentrate (Water, Apple Juice Concentrate); Pear Juice from Concentrate (Water, Pear Juice Concentrate); White Grape Juice Concentrate (Water, White Grape Juice Concentrate); Water; Contains 2% or less: Natural Flavors, Echinacea Powder, Ascorbic Acid, Zinc Amino Acid Chelate, Vitamin E (D-Alpha Tocopheryl Acetate), Vitamin D2 (Ergocalciferol);
Nutrition Facts
servings pr container
Product Number: 00071464022686
Sale Information
On Sale!
Sales price valid from 11/27/2022 until 12/3/2022
Description
Bolthouse Farms Superfood Immunity Boost Fruit Juice, 15.2 fl oz Fruit Juice Blend from Concentrate with Added Vitamins, Minerals, Echinacea, and Natural Flavors Packed with† Immunity Boosting Ingredients Excellent source of† Vitamins C & Zinc Provides an Excellent Source† of Vitamins C, E & Zinc With a Good Source† of Vitamin D †From Fruit and Added Ingredients Feel Good About what's in this Bottle We have carefully selected top immunity boosting ingredients to deliver an unmatched combination of flavor and nutrition. Which Includes the Juice of‡: Over 400 Elderberries Over 50 Cranberries Plus 100mg Echinacea ‡One Serving Equals 4 Cup of Juice. Daily Recommendation: 4 Servings of a Variety of Fruit, Including Whole Fruits, for a 2,000 Calorie Diet (Myplate). ‡Not an Exhaustive List No Sugar Added** **Not a Low Calorie Food
Product Number: 00071464022686
Ingredients
Elderberry Juice from Concentrate (Water, Elderberry Juice Concentrate and Powder); Cranberry Juice from Concentrate (Water, Cranberry Juice Concentrate); Apple Juice from Concentrate (Water, Apple Juice Concentrate); Pear Juice from Concentrate (Water, Pear Juice Concentrate); White Grape Juice Concentrate (Water, White Grape Juice Concentrate); Water; Contains 2% or less: Natural Flavors, Echinacea Powder, Ascorbic Acid, Zinc Amino Acid Chelate, Vitamin E (D-Alpha Tocopheryl Acetate), Vitamin D2 (Ergocalciferol);
Nutrition Facts
servings pr container
Product Number: 00071464022686