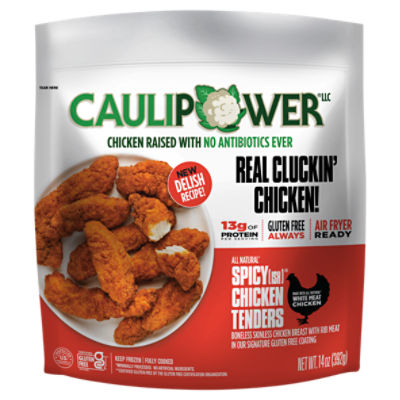 CAULIPOWER Spicy(Ish), Chicken Tenders, 14 Ounce
Sale Information
On Sale!
Sales price valid from 12/4/2022 until 12/10/2022
Description
CAULIPOWER New Chick on the Block Spicy(Ish) Chicken Tenders, 14 oz Whole White Meat Chicken with a Crispy Coating of Rice Flour & Cauliflower All Natural* *Minimally Processed. No Artificial Ingredients. Tasty, crispy, ''Whoa! This is Coated in Rice Flour & Cauliflower?!'' chicken tenders
Ingredients
Chicken Breast; Water; Rice Flour; Dried Cauliflower; Brown Rice Flour; Organic Yellow Corn Flour; Rice Starch; Contains 2% or less of the following: Tapioca Starch, Salt, Seasoning (Chicken Broth, Natural Flavor), Sea Salt, Spices, Leavening (Cream of Tartar, Sodium Bicarbonate), Organic Corn Starch, Torula Yeast, Lactic Acid Powder, Calcium Lactate, Garlic Powder, Onion Powder, Extractives of Paprika, Paprika;
Product Number: 00854934007495
Sale Information
On Sale!
Sales price valid from 12/4/2022 until 12/10/2022
Description
CAULIPOWER New Chick on the Block Spicy(Ish) Chicken Tenders, 14 oz Whole White Meat Chicken with a Crispy Coating of Rice Flour & Cauliflower All Natural* *Minimally Processed. No Artificial Ingredients. Tasty, crispy, ''Whoa! This is Coated in Rice Flour & Cauliflower?!'' chicken tenders
Product Number: 00854934007495
Ingredients
Chicken Breast; Water; Rice Flour; Dried Cauliflower; Brown Rice Flour; Organic Yellow Corn Flour; Rice Starch; Contains 2% or less of the following: Tapioca Starch, Salt, Seasoning (Chicken Broth, Natural Flavor), Sea Salt, Spices, Leavening (Cream of Tartar, Sodium Bicarbonate), Organic Corn Starch, Torula Yeast, Lactic Acid Powder, Calcium Lactate, Garlic Powder, Onion Powder, Extractives of Paprika, Paprika;
Product Number: 00854934007495