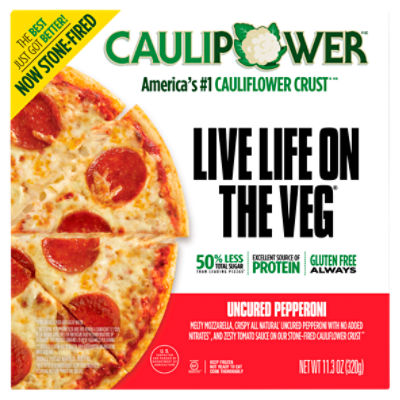 CAULIPOWER Uncured Pepperoni Stone-fired Cauliflower Crust Pizza, 11.3 oz
Sale Information
On Sale!
Sale price valid from 2/3/2023 until 2/9/2023
Description
CAULIPOWER Uncured Pepperoni Stone-fired Cauliflower Crust Pizza, 11.3 oz CAULIPOWER® uses the power of veggies to make healthier, easier versions of the food you crave, that actually TASTE like the food you crave. The BEST just got BETTER: America's #1 cauliflower crust pizza is NOW STONE-FIRED and crispier than ever! Our Uncured Pepperoni Pizza is a tasty twist on a classic pepperoni pie. Our delicious crust that's made with real cauliflower pairs perfectly with zesty tomato sauce, melty mozzarella, and all-natural* uncured pepperoni, creating a pizza so good, it might just put a little PEP in your step. It's tasty, crispy, "WHOA! THIS IS MADE WITH CAULIFLOWER CRUST?!" pizza. (*Minimally processed. No artificial ingredients.)
Ingredients
Crust (Cauliflower, Brown Rice Flour, White Rice Flour, Water, Corn Starch, Tapioca Starch, Sunflower Oil, Egg, Extra Virgin Olive Oil, Baking Powder [Sodium Acid Pyrophosphate, Sodium Bicarbonate, Corn Starch, Monocalcium Phosphate], Xanthan Gum, Sugar, Yeast, Vinegar, Salt); Sauce (Tomatoes [Tomatoes, Tomato Juice, Citric Acid], Salt, Dried Oregano); Low Moisture Part Skim Mozzarella Cheese (Pasteurized Part Skim Milk, Cheese Cultures, Salt, Enzymes); Natural* Uncured Pepperoni** (Pork, Beef, Sea Salt***, Contains 2% or less of Spices, Celery Powder***, Cane Sugar, Lactic Acid Starter Culture, Natural Flavorings, Natural Spice Extractives, Oleoresin of Paprika); *Minimally processed, no artificial ingredients; **No nitrates or nitrites added except those naturally occurring in Celery Powder and Sea Salt; ***Natural ingredient to help preserve quality;
Nutrition Facts
servings pr container
Product Number: 00854934007204
Sale Information
On Sale!
Sale price valid from 2/3/2023 until 2/9/2023
Description
CAULIPOWER Uncured Pepperoni Stone-fired Cauliflower Crust Pizza, 11.3 oz CAULIPOWER® uses the power of veggies to make healthier, easier versions of the food you crave, that actually TASTE like the food you crave. The BEST just got BETTER: America's #1 cauliflower crust pizza is NOW STONE-FIRED and crispier than ever! Our Uncured Pepperoni Pizza is a tasty twist on a classic pepperoni pie. Our delicious crust that's made with real cauliflower pairs perfectly with zesty tomato sauce, melty mozzarella, and all-natural* uncured pepperoni, creating a pizza so good, it might just put a little PEP in your step. It's tasty, crispy, "WHOA! THIS IS MADE WITH CAULIFLOWER CRUST?!" pizza. (*Minimally processed. No artificial ingredients.)
Product Number: 00854934007204
Ingredients
Crust (Cauliflower, Brown Rice Flour, White Rice Flour, Water, Corn Starch, Tapioca Starch, Sunflower Oil, Egg, Extra Virgin Olive Oil, Baking Powder [Sodium Acid Pyrophosphate, Sodium Bicarbonate, Corn Starch, Monocalcium Phosphate], Xanthan Gum, Sugar, Yeast, Vinegar, Salt); Sauce (Tomatoes [Tomatoes, Tomato Juice, Citric Acid], Salt, Dried Oregano); Low Moisture Part Skim Mozzarella Cheese (Pasteurized Part Skim Milk, Cheese Cultures, Salt, Enzymes); Natural* Uncured Pepperoni** (Pork, Beef, Sea Salt***, Contains 2% or less of Spices, Celery Powder***, Cane Sugar, Lactic Acid Starter Culture, Natural Flavorings, Natural Spice Extractives, Oleoresin of Paprika); *Minimally processed, no artificial ingredients; **No nitrates or nitrites added except those naturally occurring in Celery Powder and Sea Salt; ***Natural ingredient to help preserve quality;
Nutrition Facts
servings pr container
Product Number: 00854934007204