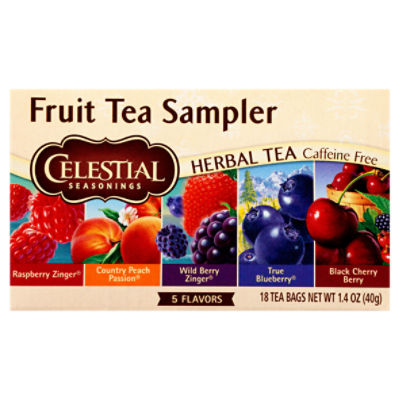 Sale Information
On Sale!
Sales price valid from 12/4/2022 until 12/10/2022
Description
Celestial Seasonings 5 Flavors Fruit Tea Sampler Herbal Tea Bags, 18 count, 1.4 oz Blendmaster's Notes ''Our lively fruit tea collection includes five of our most beloved teas brimming with fruit flavor. From the sweet, simple flavor of Black Cherry Berry, to the sophisticated tang of Wild Berry Zinger® tea, each of these herbal blends is' satisfying when hot and invigorating over ice.'' - Charlie Baden, Celestial Seasonings Blendmaster
Ingredients
Black Cherry Berry: Hibiscus, Rosehips, Roasted Chicory, Blackberry Leaves, Hawthorn Berries, Natural Black Cherry Flavor with other Natural Flavors, Chamomile, and Sweet Cherries. Country Peach Passion: Rosehips, Hibiscus, Orange Peel, Roasted Chicory, C
Product Number: 00070734055003
Sale Information
On Sale!
Sales price valid from 12/4/2022 until 12/10/2022
Description
Celestial Seasonings 5 Flavors Fruit Tea Sampler Herbal Tea Bags, 18 count, 1.4 oz Blendmaster's Notes ''Our lively fruit tea collection includes five of our most beloved teas brimming with fruit flavor. From the sweet, simple flavor of Black Cherry Berry, to the sophisticated tang of Wild Berry Zinger® tea, each of these herbal blends is' satisfying when hot and invigorating over ice.'' - Charlie Baden, Celestial Seasonings Blendmaster
Product Number: 00070734055003
Ingredients
Black Cherry Berry: Hibiscus, Rosehips, Roasted Chicory, Blackberry Leaves, Hawthorn Berries, Natural Black Cherry Flavor with other Natural Flavors, Chamomile, and Sweet Cherries. Country Peach Passion: Rosehips, Hibiscus, Orange Peel, Roasted Chicory, C
Product Number: 00070734055003