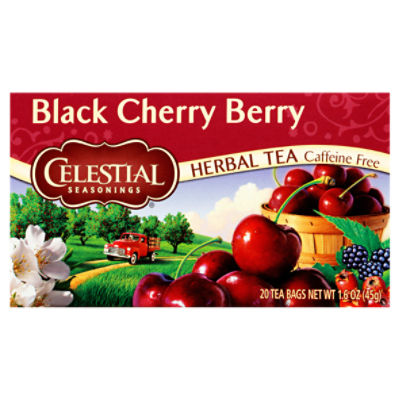 Sale Information
On Sale!
Sales price valid from 12/4/2022 until 12/10/2022
Description
Celestial Seasonings Black Cherry Berry Herbal Tea Bags, 20 count, 1.6 oz Blendmaster's Notes ''Reminiscent of bright red fruit punch we drank as children, this nostalgic blend combines a burst of cherry and berry flavors with tart, ruby-red hibiscus and other herbs. It's delicious hot and a luscious little taste of summer over ice.'' Charlie Baden, Celestial Seasonings Blendmaster
Ingredients
Hibiscus; Rosehips; Roasted Chicory; Blackberry Leaves; Hawthorn; Natural Black Cherry Flavor with Other Natural Flavors; Chamomile; Sweet Cherries;
Product Number: 00070734053191
Sale Information
On Sale!
Sales price valid from 12/4/2022 until 12/10/2022
Description
Celestial Seasonings Black Cherry Berry Herbal Tea Bags, 20 count, 1.6 oz Blendmaster's Notes ''Reminiscent of bright red fruit punch we drank as children, this nostalgic blend combines a burst of cherry and berry flavors with tart, ruby-red hibiscus and other herbs. It's delicious hot and a luscious little taste of summer over ice.'' Charlie Baden, Celestial Seasonings Blendmaster
Product Number: 00070734053191
Ingredients
Hibiscus; Rosehips; Roasted Chicory; Blackberry Leaves; Hawthorn; Natural Black Cherry Flavor with Other Natural Flavors; Chamomile; Sweet Cherries;
Product Number: 00070734053191