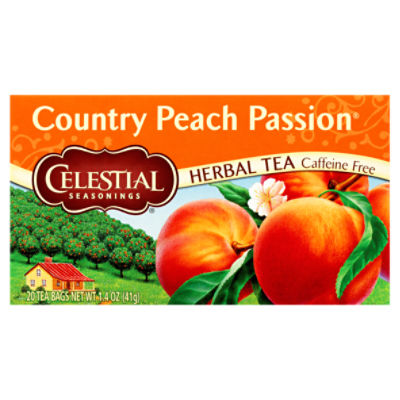 Sale Information
On Sale!
Sales price valid from 11/27/2022 until 12/3/2022
Description
Celestial Seasonings Country Peach Passion Herbal Tea Bags, 20 count, 1.4 oz Blendmaster's Notes Country Peach Passion® "Discover this herbal tea packed with juicy peach flavor and floral chamomile. Reminiscent of peaches just picked from the orchard - this flavorful blend is 'summer in a glass' served over ice. Served warm and it's a satisfying and soothing cup of tea.'' Charlie Baden, Celestial Seasonings Blendmaster
Ingredients
Orange Peel; Rosehips; Hawthorn; Chamomile; Natural Peach Flavor with Other Natural Flavors (8%); Blackberry Leaves; Hibiscus; Peaches (1%); Citric Acid; Paprika (Color);
Product Number: 00070734053245
Sale Information
On Sale!
Sales price valid from 11/27/2022 until 12/3/2022
Description
Celestial Seasonings Country Peach Passion Herbal Tea Bags, 20 count, 1.4 oz Blendmaster's Notes Country Peach Passion® "Discover this herbal tea packed with juicy peach flavor and floral chamomile. Reminiscent of peaches just picked from the orchard - this flavorful blend is 'summer in a glass' served over ice. Served warm and it's a satisfying and soothing cup of tea.'' Charlie Baden, Celestial Seasonings Blendmaster
Product Number: 00070734053245
Ingredients
Orange Peel; Rosehips; Hawthorn; Chamomile; Natural Peach Flavor with Other Natural Flavors (8%); Blackberry Leaves; Hibiscus; Peaches (1%); Citric Acid; Paprika (Color);
Product Number: 00070734053245