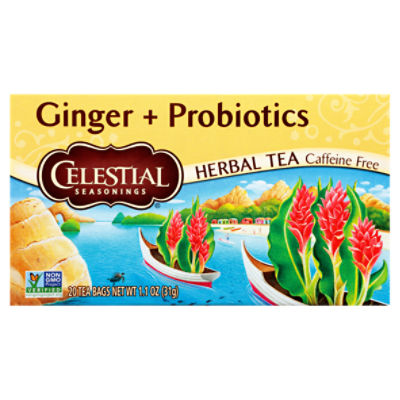 Sale Information
On Sale!
Sales price valid from 1/29/2023 until 2/4/2023
Description
Celestial SEASONING Ginger + Probiotics Herbal Tea Bags, 16 count, 0.85 oz Blendmaster's Notes Ginger + Probiotics ''Ginger is paired with lively spices like sweet cinnamon and earthy cardamom. We've also added probiotics to this soothing and warming blend to nourish the body.'' Charlie Baden, Celestial Seasonings Blendmaster
Ingredients
Ginger; Cinnamon; Licorice; Cardamom; Hawthorn; Turmeric; Bacillus Coagulans GBI-30 6086; Star Anise; Black Pepper;
Product Number: 00070734541322
Sale Information
On Sale!
Sales price valid from 1/29/2023 until 2/4/2023
Description
Celestial SEASONING Ginger + Probiotics Herbal Tea Bags, 16 count, 0.85 oz Blendmaster's Notes Ginger + Probiotics ''Ginger is paired with lively spices like sweet cinnamon and earthy cardamom. We've also added probiotics to this soothing and warming blend to nourish the body.'' Charlie Baden, Celestial Seasonings Blendmaster
Product Number: 00070734541322
Ingredients
Ginger; Cinnamon; Licorice; Cardamom; Hawthorn; Turmeric; Bacillus Coagulans GBI-30 6086; Star Anise; Black Pepper;
Product Number: 00070734541322