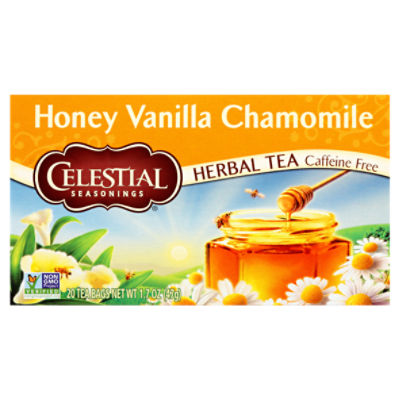 Sale Information
On Sale!
Sales price valid from 12/4/2022 until 12/10/2022
Description
Celestial Seasonings Honey Vanilla Chamomile Herbal Tea Bags, 20 count, 1.7 oz Blendmaster's Notes Honey Vanilla Chamomile ''Here's the relaxing and delicious tea you've been looking for. We've added the soothing flavors of creamy and nutty vanilla, golden honey with just a hint of refreshing orange to complement our perfect blend of chamomile flowers from around the world.'' Charlie Baden, Celestial Seasonings Blendmaster
Ingredients
Chamomile; Orange Peel; Natural Honey Flavor with Other Natural Flavors; Licorice; Roasted Chicory; Lemongrass;
Product Number: 00070734053078
Sale Information
On Sale!
Sales price valid from 12/4/2022 until 12/10/2022
Description
Celestial Seasonings Honey Vanilla Chamomile Herbal Tea Bags, 20 count, 1.7 oz Blendmaster's Notes Honey Vanilla Chamomile ''Here's the relaxing and delicious tea you've been looking for. We've added the soothing flavors of creamy and nutty vanilla, golden honey with just a hint of refreshing orange to complement our perfect blend of chamomile flowers from around the world.'' Charlie Baden, Celestial Seasonings Blendmaster
Product Number: 00070734053078
Ingredients
Chamomile; Orange Peel; Natural Honey Flavor with Other Natural Flavors; Licorice; Roasted Chicory; Lemongrass;
Product Number: 00070734053078