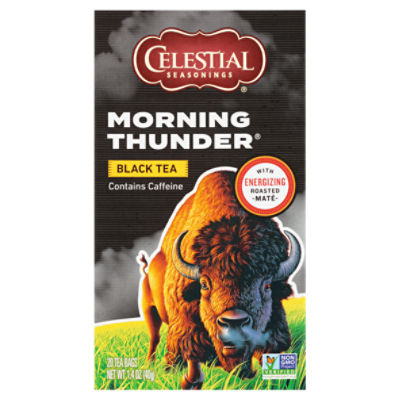 Sale Information
On Sale!
Sales price valid from 12/4/2022 until 12/10/2022
Description
Celestial Seasonings® Morning Thunder® Black Tea Bags 20 ct Box This blend's savory, earthy flavor comes from a balance of rich black tea and roasted maté, a traditional South American botanical. It's an exhilarating blend that's full of boldness and provides steady energy you can enjoy throughout the day-it just might be your new morning cup. ''Life begets life. Energy creates energy. It is by spending oneself that one becomes rich.'' -Sarah Bernhardt
Ingredients
Roasted Maté; Black Tea;
Product Number: 00070734070150
Sale Information
On Sale!
Sales price valid from 12/4/2022 until 12/10/2022
Description
Celestial Seasonings® Morning Thunder® Black Tea Bags 20 ct Box This blend's savory, earthy flavor comes from a balance of rich black tea and roasted maté, a traditional South American botanical. It's an exhilarating blend that's full of boldness and provides steady energy you can enjoy throughout the day-it just might be your new morning cup. ''Life begets life. Energy creates energy. It is by spending oneself that one becomes rich.'' -Sarah Bernhardt
Product Number: 00070734070150
Ingredients
Roasted Maté; Black Tea;
Product Number: 00070734070150