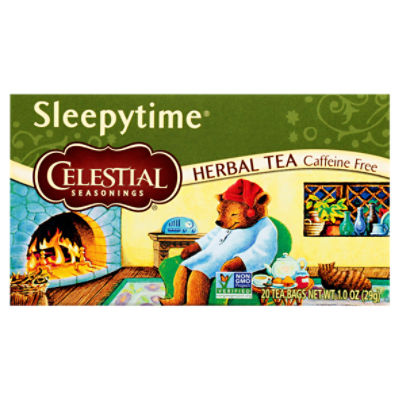 Sale Information
On Sale!
Sales price valid from 11/25/2022 until 12/1/2022
Description
Celestial Seasonings Sleepytime Herbal Tea Bags, 20 count, 1.0 oz Blendmaster's Notes ''This most beloved of herbal teas gets its comforting aroma and perfectly balanced flavor from a blend of soothing herbs, including delicate chamomile, cool spearmint and fresh lemongrass. Wind down your day with Sleepytime® tea!'' Charlie Baden, Celestial Seasonings Blendmaster
Ingredients
Chamomile; Spearmint; Lemongrass; Tilia Flowers; Blackberry Leaves; Orange Blossoms; Hawthorn; Rosebuds;
Product Number: 00070734000034
Sale Information
On Sale!
Sales price valid from 11/25/2022 until 12/1/2022
Description
Celestial Seasonings Sleepytime Herbal Tea Bags, 20 count, 1.0 oz Blendmaster's Notes ''This most beloved of herbal teas gets its comforting aroma and perfectly balanced flavor from a blend of soothing herbs, including delicate chamomile, cool spearmint and fresh lemongrass. Wind down your day with Sleepytime® tea!'' Charlie Baden, Celestial Seasonings Blendmaster
Product Number: 00070734000034
Ingredients
Chamomile; Spearmint; Lemongrass; Tilia Flowers; Blackberry Leaves; Orange Blossoms; Hawthorn; Rosebuds;
Product Number: 00070734000034