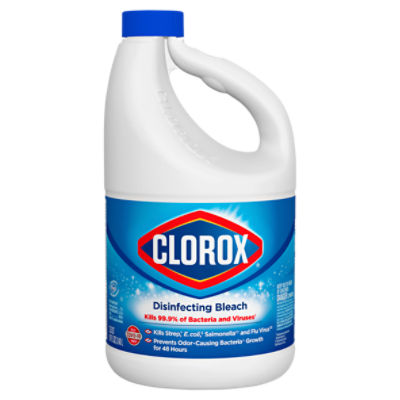 Clorox Disinfecting Bleach, 81 Fluid ounce
$6.79
was $7.99
$0.08/fl oz
Sale Information
On Sale!
Sales price valid from 12/2/2022 until 12/8/2022
Description
Clorox Disinfecting Bleach, 2.53 qt Kills Covid-19 Virus✧ ✧ Kills SARS-CoV-2 on hard, nonporous surfaces Kills H1N1ƒ, SARS*, Strep** & E. coli*** ƒ 2009-H1N1 Influenza A Virus * SARS-Associated Coronavirus ** Streptococcus pneumoniae *** Escherichia coli Cleans and protects surfaces†† †† By reducing soil adhesion With CloroMax Technology™ Keeps clothes whiter longer‡ ‡Vs. detergent alone
Ingredients
Other Ingredients: 92.5%; Total: 100.0%; (Yields 7.1% available Chlorine);
Product Number: 00044600322636
Sale Information
On Sale!
Sales price valid from 12/2/2022 until 12/8/2022
Description
Clorox Disinfecting Bleach, 2.53 qt Kills Covid-19 Virus✧ ✧ Kills SARS-CoV-2 on hard, nonporous surfaces Kills H1N1ƒ, SARS*, Strep** & E. coli*** ƒ 2009-H1N1 Influenza A Virus * SARS-Associated Coronavirus ** Streptococcus pneumoniae *** Escherichia coli Cleans and protects surfaces†† †† By reducing soil adhesion With CloroMax Technology™ Keeps clothes whiter longer‡ ‡Vs. detergent alone
Product Number: 00044600322636
Ingredients
Other Ingredients: 92.5%; Total: 100.0%; (Yields 7.1% available Chlorine);
Product Number: 00044600322636