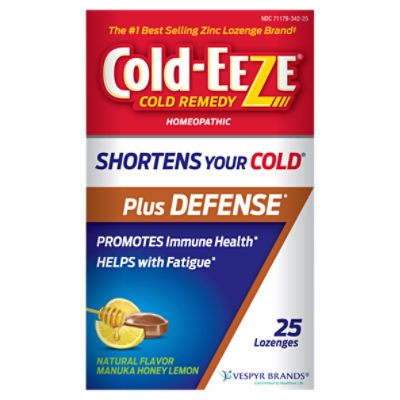 Cold-Eeze Natural Flavor Manuka Honey Lemon Lozenges, 25 count
Sale Information
On Sale!
Sales price valid from 1/27/2023 until 2/2/2023
Description
Cold-Eeze Natural Flavor Manuka Honey Lemon Lozenges, 25 countnShortens Your Cold®nnPlus Defense*nPromotes immune health*nHelps with fatigue*nnDrug FactsnActive ingredients (per lozenge) - Purposes nZinc gluconate 1X HPUS✝ (2.22%) (13.3 mg zinc) - Cold remedynSambucus nigra 1X HPUS✝ (1.11%) - Promotes immune support*nAvena sativa L. 2X HPUS✝ (0.14%) - Helps with general debility and fatigue*nRosa canina (rose hips) 2X HPUS✝ (0.09%) - Promotes immune support*nEchinacea purpurea 3X HPUS✝ (0.04%) - Promotes immune support*n✝The letters 'HPUS' indicate that the active ingredient is in the official homeopathic pharmacopeia of the United States.nnUsesn• reduces the duration of the common coldn• reduces the severity of cold symptoms: cough, sore throat, nasal congestion, post nasal drip and/or hoarsenessn• supports immune system health*n• helps with a general debility and fatigue*n*Claims based on traditional homeopathic practice, not accepted medical evidence. Not FDA evaluated.nnReleases zinc ions in the mouth® and shortens the duration of the common cold
Ingredients
Inactive Ingredients: Corn Syrup, Glycine, Natural Colors, Natural Flavors, Sucrose;
Product Number: 00091108342253
Sale Information
On Sale!
Sales price valid from 1/27/2023 until 2/2/2023
Description
Cold-Eeze Natural Flavor Manuka Honey Lemon Lozenges, 25 countnShortens Your Cold®nnPlus Defense*nPromotes immune health*nHelps with fatigue*nnDrug FactsnActive ingredients (per lozenge) - Purposes nZinc gluconate 1X HPUS✝ (2.22%) (13.3 mg zinc) - Cold remedynSambucus nigra 1X HPUS✝ (1.11%) - Promotes immune support*nAvena sativa L. 2X HPUS✝ (0.14%) - Helps with general debility and fatigue*nRosa canina (rose hips) 2X HPUS✝ (0.09%) - Promotes immune support*nEchinacea purpurea 3X HPUS✝ (0.04%) - Promotes immune support*n✝The letters 'HPUS' indicate that the active ingredient is in the official homeopathic pharmacopeia of the United States.nnUsesn• reduces the duration of the common coldn• reduces the severity of cold symptoms: cough, sore throat, nasal congestion, post nasal drip and/or hoarsenessn• supports immune system health*n• helps with a general debility and fatigue*n*Claims based on traditional homeopathic practice, not accepted medical evidence. Not FDA evaluated.nnReleases zinc ions in the mouth® and shortens the duration of the common cold
Product Number: 00091108342253
Ingredients
Inactive Ingredients: Corn Syrup, Glycine, Natural Colors, Natural Flavors, Sucrose;
Product Number: 00091108342253